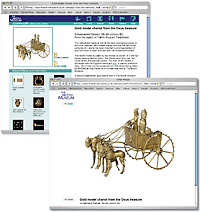 Alfred the Lion, a big but sweet-tempered cat, is your tour guide through Children's Compass, the British Museum's online venue for collections, activities, and games designed for children ages 5 to 13. This site has many cleverly designed tours, focusing on subjects such as buried treasure, horses and riders, sport in ancient Greece, and African money.
Navigating the site with two young friends ages 7 and 11 showed that the tour's instructions were clear enough for older children to explore the site on their own, but younger children will need the help of a parent or teacher to fully enjoy the creative activities. The Anglo-Saxon England tour even has an animated map with arrows that trace the historic migrations of Angles, Jutes, and Saxons into England. Some tours have games that are so well wrought that our only complaint was that we wanted more. In one game a mummy taught us to read hieroglyphics. When we successfully translated a whole sentence, the graphic tomb opened to reveal the mummy inside.
The site's search function allows you to simultaneously select geographical and thematic criteria. Say you want to introduce your child to the gods and spirits of Africa. You simply click on "Africa" and "Gods and Spirits" in the two lists. All the objects on Children's Compass note their location in the British Museum making it easy to plan a trip to see the real thing.
The website's strength is its simplicity. The site is uncluttered and easy to navigate. It requires no extra software other than Flash 5 (or higher), which can be downloaded from the Compass page for free.
Children's Compass is most easily accessed through the clearly marked link on the main Compass site, which houses the British Museum's full online collection, at www.thebritishmuseum.ac.uk/compass.
Beebe Bahrami is a writer and anthropologist.
Click here for more ARCHAEOLOGY website reviews.


© 2006 by the Archaeological Institute of America
archive.archaeology.org/0607/reviews/compass.html
Share