Columbus's Last Voyage
Volume 59 Number 4, July/August 2006
by Jennifer Pinkowski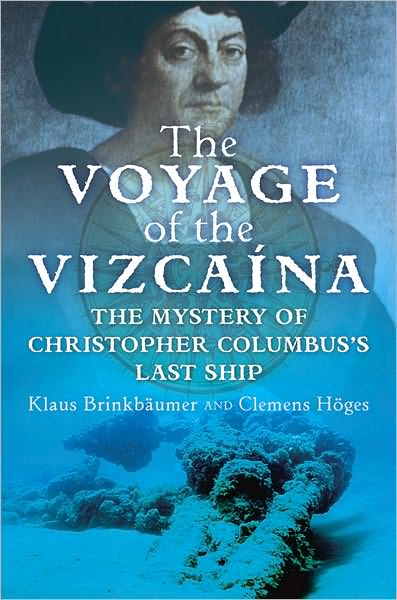 In 1503, Christopher Columbus's dreams of finding a faster route to India sank in 20 feet of water off the coast of Panama. A shipworm infestation claimed his ship, Vizcaina, leaving Columbus to struggle through his last expedition to the New World, which ultimately ended with three of his four ships sinking. Five hundred years later the search for Vizcaina has sparked conflicts over issues of historic preservation and the legacy of Columbus himself.
Der Spiegel journalists and recreational divers Klaus Brinkbäumer and Clemens Höges seek the the identity of a wreck that could be the Vizcaina in their swiftly paced adventure biography The Voyage of the Vizcaina (Harcourt $26).
In 2001, Warren White, a salvor with a reputation for blowing up wrecks to find their hidden gold, announced that a wreck off the coast of Panama--the oldest ever found in the Western Hemisphere--was Vizcaina. Though a few historical documents backed him up, others described the ship going down some 15 miles away. But the wreck was promising enough that two years later, archaeologists from the Institute of Nautical Archaeology at Texas A&M University explored the wreck and were excited by its potential to be one of Columbus's ships.
Identifying Vizcaina would be significant beyond its connection to Columbus. It was a type of vessel known as a caravel, and no one knows exactly what they looked like or how they were built. Although Age of Discovery-era wrecks have been found before, none have been positively identified, even though a hundred sank between 1492 and 1520 helmed by explorers such as Balboa, Pizzaro, and Cortes.
But wrangling over who "owns" the find stymies the research. Der Spiegel offered to finance the wreck's excavation in exchange for publication rights to the story. But salvor Nilda Vazquez claims the Panamanian Ministry of Economy and Finance has granted her exclusive rights to the wreck. The Panamanian government wrings its hands over cultural patrimony and denies archaeologists' request to investigate. However, since the book's publication, Vazquez has teamed up with an American salvor company and dived on the wreck with unknown results.
Jennifer Pinkowski is a former editor at ARCHAEOLOGY.
Click here for ARCHAEOLOGY's bookstore.


© 2006 by the Archaeological Institute of America
archive.archaeology.org/0607/reviews/columbus.html
Share