The Smithsonian's Dorothy Lippert talks about the rewards of repatriation.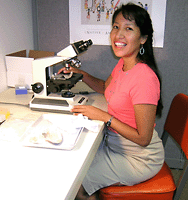 For the past five years, archaeologist Dorothy Lippert of the Choctaw Nation has been a case officer at the Smithsonian National Museum of Natural History's Repatriation Office, which is responsible for returning human remains and artifacts of cultural patrimony in the museum's collections to Native American tribes. Since 1990, the Smithsonian has returned nearly 88,000 funerary objects and more than 3,300 human remains, almost all of which came from archaeological excavations. Another 500 remains await return. Lippert spoke with ARCHAEOLOGY about returning remains, redeeming archaeology, and seeing herself in the collection.
Do you recall when you first heard about the Smithsonian's collections of Native remains and grave goods?
I remember hearing a story about Cheyenne people who were on a behind-the-scenes tour of the museum, and someone asked what was in all the boxes around them. They were told they held human remains. That's a terrible thing to do to Native Americans--to say, "You've got bones all around you."
When was that?
It was the early 1990s. I was just starting graduate school. Being Native American, and studying archaeology, I couldn't help but get pulled into it all. I would hear one thing in my archaeology classes, and then I would hear another in the Indian community. Neither one could hear what the other was saying. I felt like I had a responsibility to make each point of view clear to the other group.
What were the fundamental reasons for repatriation?
I don't think archaeologists could maintain the argument that they were working for the public good when they were treating some members of the public as if they weren't fully human. I'm thinking of cemeteries. There have been several cases--in California, in Iowa--where a cemetery was excavated, and remains from the same time period were determined to be either human or specimens for labs on the basis of whether they were white or Native American. The Smithsonian wasn't alone in this.
Has repatriation helped redeem archaeology in Native eyes?
In some ways, yes, but I don't think we archaeologists have fully realized what we're capable of in this process. Returning the remains and objects is an initial step, but we could do a lot more with Native American input relating to the practice of archaeology.
From looking at repatriation data from 1990 to 2004, it appears that a great majority of returned human remains were from Alaska.
Some of that has to do with our process. We work in response to requests from federally recognized tribes--we don't just go through the collections state by state. The tribes are also the ones that identify potentially sacred objects under the law. They might say, "This mask is important for the ongoing practices of a traditional religion." We can't go through the objects and say what is sacred, because we're not tribal members.
Are there ever cases when tribes choose not to repatriate?
Sometimes they elect to house the remains or objects with us, mostly because they're not yet ready to deal with the process of reburying them.
Some archaeologists feel repatriation limits what they can do as scientists.
Yes, there has been strong reaction among archaeologists to repatriation and some people think that it's detrimental to our profession. I think it's helped us because it drew in a lot of Native people, and that makes archaeology a stronger and more interesting type of science. People didn't realize there would be a growing number of Native Americans wanting to become archaeologists. Today, there are a lot of us.
But you are the only Native American archaeologist in your department?
Yes.
You're Choctaw. Have there been many Choctaw remains or objects returned?
No, and that's the worst thing that I've had to deal with here. We have a named individual who's identified as a Choctaw female, age 30 to 40. I don't remember how that catalog record came up, but, it was just...it could be a description of me. It's not pleasant to think of yourself as being in the collection.


© 2006 by the Archaeological Institute of America
archive.archaeology.org/0607/etc/conversations.html
Share