Rescued Frescoes
Volume 59 Number 3, May/June 2006
by Marco Merola
An unexpected discovery of rare Roman art
Conservators work in the basement of Rome's Addolorata Hospital to salvage frescoes and mosaics dating from 50-30 B.C. New construction unearthed a previously unknown section of an opulent villa, decorated with rare examples of naturalistic Imperial Age art, including the striking face of a woman, below. (Pasquale Sorrentino) [LARGER IMAGE]

For more photos of the frescoes, see the May/June 2006 issue of ARCHAEOLOGY.
Archaeologists have found paintings and mosaics from a previously unknown section of the Domus Valeriorum, one of ancient Rome's grandest homes. Uncovered during construction of a new particle accelerator for radiation therapy at Addolorata Hospital, it is the first significant trove of ancient frescoes to be discovered in the Eternal City in three decades. The vivid Imperial Age imagery includes theater masks, sacred niches and theater scenes, animals, candelabra, as well as plants and flowers. All the depictions were executed in a very naturalistic style rarely found in Rome.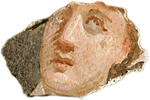 "We were not supposed to find anything that could belong to the Domus Valeriorum," says Maria Rosaria Barbera of the Soprintendenza Archeologica di Roma, the excavation's scientific director. "Instead, we found a part of the Domus about which we were completely ignorant--frescoes, stucco, and a mosaic-floored corridor and viridarium (a sort of inner garden) dated to the second century A.D."
The villa belonged to the Valerii, a great landowning family that could trace its roots back to the very beginnings of Roman history. Always important players on the Roman political scene, the Valerii prospered for centuries with land holdings in Italy, Sicily, Africa, and Spain and owned as many as 24,000 slaves. Between 50 and 30 B.C., the family built a massive house on the fashionable Celian Hill overlooking the city, and over time decorated it with the finest frescoes and mosaics.
The house was inhabited for centuries and constantly remodeled and renovated until the Dark Ages came to Rome in the seventh century A.D., after which it lay forgotten beneath the urban landscape until the original Addolorata Hospital was built in 1902. What was uncovered then clearly belonged to a late phase of house reconstruction in the fifth century A.D. A story from the fifth or sixth century A.D., "Life of St. Melania," tells of a late-fourth-century attempt by some of the last descendants of the Valerii, Valerius Pinianus and Melania Iuniore, to sell the house, an effort that fell through because the asking price was too high. The house was badly damaged during the barbarian invasions of Rome in the fifth century A.D., and eventually sold for a pittance to the Roman Catholic Church, which turned it into an asylum for pilgrims and the elderly called the Xenodochium Valerii, preserving the name, if not the grandeur of its Imperial days. Eventually, the asylum was abandoned and disappeared from the historical record.
Marco Merola is a Naples-based science reporter.


© 2006 by the Archaeological Institute of America
archive.archaeology.org/0605/abstracts/villa.html
Share