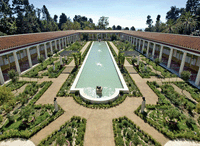 (© Richard Ross with the courtesy of the J. Paul Getty Trust) [LARGER IMAGE]
Until now, visitors to the Getty Villa came in through the backyard of this simulated ancient Roman country home. They enjoyed a nice stroll through the poolside paths and peaceful, colonnaded gardens of its outer peristyle, dotted with replicas of sculpture that adorned its model, the Villa of the Papyri in Herculaneum, which Vesuvius buried in A.D. 79. That initial emphasis on facsimiles rather than authentic art made for "an awkward introduction," as Marion True, the Getty's embattled former antiquities curator currently facing charges in Italy (see "Museums on Trial" and "The Trial in Rome"), puts it in a new book marking the January 28 reopening of the renovated Villa in Malibu, California.
True's troubles make this an unavoidably awkward time for the villa's reintroduction. As for bringing in visitors through the back door, that has been amended nicely with bricks and mortar--or, more precisely, with the concrete, marble, travertine, and translucent onyx from which the villa's problem-solving new entry pavilion is fashioned. Visitors are now introduced to the museum with a splendid view that also takes in other buildings on its canyonside campus. Turn sideways, and you can see the ocean. Striations in the concrete that towers over the winding, uphill entry path are meant to give us a sense that we're entering an archaeological dig, with the villa eventually coming into view as an unearthed jewel of antiquity.
Architecturally, the renovation was not intended to repair historical inaccuracies in a building that is less a replica of a single villa than a seamlessly stitched Frankenstein's monster, with parts borrowed from several Roman buildings. That eclectic method is most evident in the striking "Hall of Colored Marbles"--the ornately tiled floor there was inspired by several sources. The renovation's main goals were practical: to help visitors navigate more logically and easily, and to let in the light of day. In its initial run from 1974 to 1997 as the Getty Trust's sole art repository, the villa housed all collections, and the upstairs was walled in to protect light-sensitive Old Masters and French decorative art now displayed at the much larger Getty Museum a few miles inland. The reopened villa is strictly for antiquities, and since ancient marble luxuriates in daylight, new skylights and many new windows have been installed, bringing a pleasantly open feel to most of the second-floor galleries.
Nearly all the exhibition rooms are organized by theme, rather than by civilization or era. That allows for a diversity of objects throughout, with the signature red-and-black pottery of Greece adorning multiple galleries instead of being segregated. The Etruscans suffer from the thematic approach; without a room of their own, they are outranked, vastly outnumbered, and obscured.
Gods and heroes take up most of the ground floor. An imposing Herakles, gripping a lion's skin and the club with which he smote the beast, was the keystone statue of J. Paul Getty's original collection. It commands its own small, domed shrine. Another room offers depictions of the Trojan War, including a marble relief on a Roman sarcophagus depicting Achilles dragging the dead Hector. Comedy, with a touch of the satyrically erotic, dominates in the gallery given to Dionysos and ancient theater; the only representation of tragedy is a single mural fragment of Melpomene, its patron muse. Classical plays to be produced in the villa's new 450-seat outdoor theater should help right that imbalance. Holding a prominent place in the gallery of gods is a mighty and austere Aphrodite from the fifth century B.C. Sky-blue walls give the room a suitably celestial, Olympian feel. Video, deployed in a small handful of galleries, is an inobtrusive and helpful adjunct, especially in demonstrations of glass-making techniques that inform a lovely special exhibition of highlights from a recently acquired collection of both Greek and Roman glass artifacts. However, sometimes the labels mounted under cases are positioned too low, and matching descriptions to objects can be confusing.
The upstairs galleries offer images and implements of human existence. Large, symmetrical rooms on opposite sides of the inner peristyle portray "Women and Children in Antiquity" and "Men in Antiquity." One can look in the eyes of a bust of Alexander the Great dated from the last years of his life, set next to a contemporaneous one of his bosom friend, Hephaistion. The ensemble of gold jewelry worn by a Roman woman of fashion has a Tut-like dazzle factor (in another gallery devoted to "Luxury," a case of ornate Parthian silver vessels is also high in glitter appeal). More down to earth, and affecting, are small statues of a child of 2,500 years ago, riding piggyback on a grownup's shoulders, and a sadly affectionate bust inscribed to "Dearest Martial," a chubby-cheeked Roman slave child who died a month before turning three. The vitality and poignancy in these humble artifacts reaches across time, providing anchoring moments in which this temple to the ancient Greeks and Romans affords us a glimpse of ourselves.
Mike Boehm is an arts writer for The Los Angeles Times.
Click here for ARCHAEOLOGY's list of current exhibitions.


© 2006 by the Archaeological Institute of America
archive.archaeology.org/0603/reviews/villa.html
Share