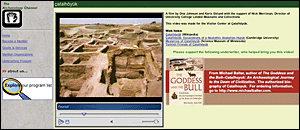 The Archaeology Channel (archaeologychannel.org) is a moderately sized but content-rich website offering a small but growing collection of some 65 free videos. The selection is quite diverse geographically and thematically, and is designed for viewing by a wide audience, from children to professionals. Created by the Archaeological Legacy Institute (ALI), an Oregon-based group headed by archaeologist Richard Pettigrew, Archaeology Channel has a particular passion for film. It holds an annual International Archaeology Film Festival (this year from March 7 to 11 in Eugene, Oregon), and highlights other film festivals around the world.
Generally between 8 and 30 minutes long, the videos cover a range of global sites, from an indigenous Monongahela village in Pennsylvania filmed before the state built a road through it to a trip down the Nile to experience how the river influenced the development of Egyptian civilization. Other subjects include the 9,000 years of human settlement at Çatalhöyük in Turkey and the continuity from the archaeological past to the present among the Akha of Thailand. While some of the movies are made by independent filmmakers, many are produced by institutions affiliated with the sites. The Çatalhöyük film, for instance, is shown at the archaeological site's visitor center. Links to archaeology websites with related information are found right next to the video player.
The coverage is rich enough to appeal to many interests, even within one area. "Ancient Greece: Pots Tell the Story" is aimed at children, introducing basics such as Doric, Ionic, and Corinthian architectural styles; the Olympics; and the social and cultural information found on ancient Greek ceramics. For the older viewer, from aficionado to professional, there are several films: "The Acropolis," "The Ancient Hydraulis," and "The Parthenon."
For the most part, the videos are well-written and offer expert knowledge in accessible language, and generally the video and audio clarity is quite good. How smoothly these videos play depends on the speed of your Internet service. I have a dial-up connection, and at least 80 percent of the videos loaded within a minute--yet the other 20 percent was truly hit or miss, with some of the videos not loading at all. I had much better luck with a friend's DSL connection; all the videos loaded and began playing immediately.
To play a video, click on the link, which opens a window in which you select how fast your connection is (56k, 300k, and 700k) and your multimedia player, either Windows Media or RealOne. If you don't have a multimedia software player on your computer, Archaeology Channel's homepage has links to download free copies of them, which are available for both Macintosh and PC platforms. Though site elements include a weekly audio news feed, audio commentaries on hot topics, and links to other news-rich sites--including ARCHAEOLOGY's website--it is the films that make Archaeology Channel worth a visit.
Beebe Bahrami is a writer and anthropologist.
Click here for ARCHAEOLOGY's list of multimedia reviews.


© 2006 by the Archaeological Institute of America
archive.archaeology.org/0603/reviews/channel.html
Share