Letter from China: The Search for Peking Man
Volume 59 Number 2, March/April 2006
By Jake Hooker
The famous fossils are still MIA, but does Chinese paleontology miss them?
| | |
| --- | --- |
| | Now a little-visited tourist site in the village of Zhoukoudian, this former quarry was the site of Peking Man's discovery in the 1920s. (Courtesy Jake Hooker) [LARGER IMAGE] |
In November 1941, an American secretary at Peking Union Medical College told her Chinese colleague, Hu Chengzhi, to pack the largest collection of early human fossils in the world for shipment. The bones, known collectively as Peking Man, were to be sent to New York City for safekeeping until the end of the war. "We wrapped each skull in layers of lens paper, thick cotton, and medical gauze, then placed each one into a small box," Hu recalled in a 1977 letter to the Chinese paleontologist Jia Lanpo. "Then we packed the small boxes into two wooden crates." Weeks later, on their way from Peking to the port city of Qinghuangdao, the fossils vanished.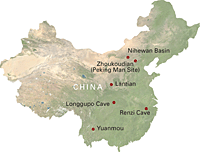 The disappearance remains one of paleontology's enduring mysteries. Over the years, a number of attempts have been made to locate Peking Man. The latest came last July, when Beijing's Fangshan District government announced a renewed search for the bones. A committee of four from the Peking Man Museum set out to gather leads from throughout China. A search hotline was published in the local newspapers, and by November, it was later announced, 63 leads had come in. One member of the committee, quoted in several newspapers, said that four leads looked "especially promising."
A "121-year-old man" who had served as a high official in Sun Yatsen's Republican Government said he knew exactly where the fossils were. An "old professor" from northwest Gansu Province, during a visit to Japan, had found revealing testimony from an American soldier in the archives of the Tokyo Military Tribunals. A Mr. Liu, from Beijing, said he knew an "old revolutionary" who had a skull in his possession and would be willing to meet with members of the committee. Another Beijing man said that his father, a former doctor at Peking Union Hospital, had brought a skull home from work one day and buried it in a neighbor's yard.
Given how much time Chinese paleontologists have wasted over the years pursuing bizarre leads, a kind of Peking Man fatigue has set in. And perhaps they feel that too much attention has been paid to the lost fossils, and not enough to what Chinese scientists have found in recent years--like stone tools in the Nihewan basin not far from Zhoukoudian that are 1.6 million years old. The finds at Nihewan can't win the race with Africa, but they prove that hominids have lived in China for a very long time.
Chinese scientists can take comfort in the prospect that their search will succeed. The Peking Man fossils will likely never turn up, but new fossils almost certainly will.
Jake Hooker is a researcher with The New York Times in Beijing. He has written for The Boston Globe, The Financial Times, and other publications.


© 2006 by the Archaeological Institute of America
archive.archaeology.org/0603/abstracts/letter.html
Share