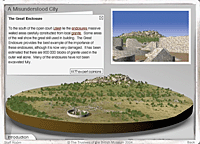 The Internet has been a valuable tool in bringing the collections of major museums to a broader audience--an educational mission for many institutions. Yet curators know that virtually visiting artifacts just isn't as compelling as seeing them in person. Major museums across the world have online exhibitions--the Metropolitan Museum of Art's informative "Timeline of Art History" comes to mind--but none is as interactive as the British Museum's "Ancient Civilizations" (thebritishmuseum.ac.uk/education/ancientcivilizations/), an enjoyable, informative, and educational introduction to ancient societies across the globe. Designed to coordinate with U.K. classroom curricula, the site's interactive content, based on the museum's massive holdings, is nevertheless suitable for anyone interested in the topic.
"Ancient Civilizations" has links to interactive explorations of the cultures of China, Egypt, India, Mesopotamia, Africa, and the Americas. Key developments in human history are divided by topic: "Religion," "Buildings," "Cities," "Technology," "Trade," and "Writing." Clicking on one of these links brings the user to a world map with a moving timeline that depicts the different cultures emerging on the map and then fading away, evocatively illustrating the civilizations that have existed, and then died out, over thousands of years. Here the museum's collection comes into play as objects are presented, described, and placed within their cultural context through imaginative interfaces. The relationship between the Phoenician writing system, one of the world's first alphabets, and Greek, is explored by matching Scrabble-like tiles of Phoenician letterforms to their Greek equivalents. By displaying the transformation of these early letterforms, both cultural interchange and continuity are made clear.
"Ancient Civilizations" is an excellent way to bring archaeology to the home or the classroom--and to make the ancient world compelling.
Ann Steinsapir is a museum educator at the Getty Villa of the J. Paul Getty Museum.
Click here for ARCHAEOLOGY's multimedia reviews.


© 2005 by the Archaeological Institute of America
archive.archaeology.org/0511/reviews/past.html
Share