The Czech Republic's biggest excavation reveals layers of history.
Every Czech school child knows the story. Prague was a crowded medieval city bursting at the seams when, in 1348, its problem was solved at a stroke by the brilliance of Charles IV. The greatest of Czech kings ordained that a massive swathe of farmland around the walled city should become a new urban space called Nove Mesto, or New Town. The Prague we know today is said to be largely a product of Charles IV's effort at urban planning.
But fascinating new finds from a rescue dig on the three-and-a-half acre site of a new shopping and office complex in downtown Prague are offering a different take on this historical chestnut. Evidence is emerging that proves Prague had a thriving--and wealthy--suburb beyond its early limits 150 years before Charles took on the mantle of master developer.
As I emerge from the neat network of Prague's Metro, it's a little difficult to identify exactly where the archaeology is taking place. Namesti Republiky--Republic Square--is a triangular patch of road bisected by tram lines and bordered by a patchwork of faded nineteenth-century buildings and ugly 1970s glass-and-steel shops.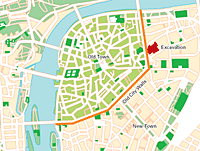 But in response to a cell-phone call, Pavel Titz, a senior archaeologist on the dig, emerges from a massive building that has served as army barracks since the nineteenth century. He guides me behind the building to the rescue work going on in wide square trenches. Then we go inside to the deep dark shafts beneath the building's foundations, where some of the most exciting finds are emerging. "Normally, archaeologists in Prague are confined to digging in small sites within the city and the surrounding area," says Titz, a tall, slim, bearded man in his early 30s, as we step precariously across wooden boards that bridge basement excavation shafts as much as 16 feet deep. "Foreign investment in the last 10 years has changed all that, and big new developments create new opportunities--and pressures," adds Titz, one of a group of young archaeologists who set up Prague's Archaia, the nonprofit independent archaeological partnership that is overseeing the dig.
"This is such a big area--the largest ever excavation in the country--that we can really understand relationships between finds and features and understand much more about the historical importance of this area," he says.
As we walk through the dark and dank corridors of the old barracks that squat over much of the excavation site, I get a glimpse of the gargantuan task Archaia has taken on: more than 3,000 banana boxes of finds are neatly stacked along its walls, containing some five million pieces of pottery and countless animal bones, glass, and ceramic artifacts.
Some startling finds are already rewriting the early medieval history of Prague and show that a substantial, prosperous, and significant suburban development existed beyond the city limits in the second half of the twelfth century. The finds include a Romanesque palace found in the bowels of the old barracks, two other stone-built houses, and a dozen wooden structures, along with evidence of large market gardens and agricultural estates running down to the Vltava River, two miles away.
Nick Holdsworth is a regular contributor to The Times Higher Education Supplement, The Sunday Telegraph, and The Hollywood Reporter. He is author of Moscow, The Beautiful and the Damned--Life in Russia in Transition (Andre Deutsch, London, 2000).
| | |
| --- | --- |
| | Archaia maintains a website at: www.archaia.cz/page.html. While most of the site is in Czech, several English pages describe ongoing archaeological projects. |


© 2005 by the Archaeological Institute of America
archive.archaeology.org/0511/abstracts/prague.html
Share