What happens to artifacts when they have no place to go?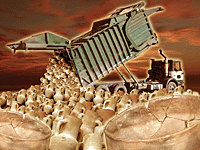 A little more than a year ago, I fielded an email from one of my former graduate students that left me frustrated. Now an archaeologist with a private company in Florida that performs archaeological surveys and excavations mandated by governmental laws and regulations, he asked if the Florida Museum of Natural History would accept artifacts recently excavated from an important Archaic period site near Tampa. He knew that we store collections from more than 1,600 Florida sites. A decade ago, I would have said yes: You pay for the materials needed to store the collection and prepare the catalog, and we'll curate the 8,500-year-old stone points and tools, and other artifacts. But this time, I had to say no. We simply didn't have the room.
I wondered how many other museums around the country had run of out of room and what they were doing about it. Perhaps the most telling story came via Wendy Bustard, museum curator for the Chaco Culture National Historic Park, writing in the magazine Cultural Resource Management. In it, she recalls the woeful tale of one museum's archaeological collection, which had been stored in an abandoned car wash for two years. Collections in a car wash? Yes, indeed. It seems a university museum had run out of storage room and was given an "abandoned two-bay car wash" as a temporary solution to the space crunch. It got worse: A storm ripped the metal roof off, leaving the collections exposed to the elements. Only a rich donor saved this collection, funding a research and curation center.
Over the last three decades, here in Florida, university archaeologists and those working in the now dominant field of cultural resource management (CRM) routinely deposited collections and field notes in my museum where they were to be "curated in perpetuity," according to the fine print in the donor agreements. At first, that arrangement seemed fine. But the materials kept coming. Laws, regulations, and other public mandates seeking to protect and manage archaeological sites and to assess the impact of commercial, residential, and other developments led to more field projects and more artifacts. As ground was broken for subdivisions, shopping malls, gas pipelines, and even waste-treatment plants, the number of new projects requiring archaeological investigations by CRM firms added to the number of artifact collections needing curation. While excavations increased tenfold, the amount of excavated artifacts increased even more--and all of them needed a safe place to call home.
The problem is, in many cases the laws don't say that artifacts must be given a home at all. For projects on federal and sometimes state lands, archaeologists are required to plan how excavated artifacts will be cared for. But for projects on private land, generally no such safeguards are in place. In essence, no one is legally responsible for the artifacts: not the contract archaeology firm, not the developers. And as CRM firms compete for contracts, they try to outbid each other, and keeping costs down is a crucial part of a successful bid. So what doesn't make it into many bids? You guessed it: curation of the collection, and who's going to pay for it.
Jerald T. Milanich is curator in archaeology at the Florida Museum of Natural History and a contributing editor for ARCHAEOLOGY. His latest book is Frolicking Bears, Wet Vultures, and Other Oddities: A New York City Journalist in Nineteenth-Century Florida (University Press of Florida).


© 2005 by the Archaeological Institute of America
archive.archaeology.org/0511/abstracts/letter.html
Share