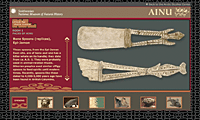 Colorful, extravagant, diverse--these are not adjectives usually associated with the windswept tundra of the Arctic Circle. But the Smithsonian National Museum of Natural History is trying to change that by making available online the archaeological research it supports and the cultural treasures in its collection. The Arctic Studies Center (www.mnh.si.edu/arctic) offers current and past archaeological projects and exhibitions that have been on display at the Smithsonian or in museums in Arctic locales such as Alaska and Siberia.
Among the archaeology is a dig in northern coastal Sweden that investigated the reasons for the migration of the ancient Saami people. Field findings are supplemented by maps and photographs, providing a nice primer on the Saami and archaeological techniques.
The exhibits reflect the diversity of the vast Arctic Circle, from the Ainu of Japan to the Vikings of Greenland. Throughout are stunning pictures of artifacts both prehistoric and early modern. Some exhibits, like "Ainu: Spirit of A Northern People," are fairly basic, with a slide-by-slide picture tour of artifacts, while others are more high-tech, such as "Crossroads of Continents," which has a virtual museum that explores Siberian and Alaskan cultures from before the last Ice Age to the present. From collections across the world, the objects in the Viking exhibit are beautiful, from elaborate silver drinking horns to bronze inlaid swords.
The site emphasizes modern arctic peoples' connection to their rich past; interviews with natives and videos of ceremonies are included. A section on repatriation discusses the museum's efforts to reconnect native peoples with some of the objects in the Smithsonian's collection, and has links to articles about ongoing repatriation issues.
Alexander Benenson is a Yale University classics major.
Click here for ARCHAEOLOGY's list of multimedia reviews.


© 2005 by the Archaeological Institute of America
archive.archaeology.org/0509/reviews/arctic.html
Share