Aerial photography's stunning contributions to archaeology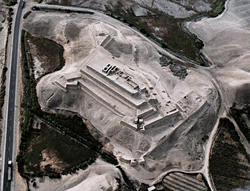 The fortress at Paramonga, Peru (Georg Gerster) [LARGER IMAGE]

For more exclusive images, see the September/October 2005 issue of ARCHAEOLOGY.
Destroyed by war, buried under encroaching cities, drowned in rising waters--what would be left of most of the world's archaeological sites if images had not immortalized their beauty? Since its invention in the late nineteenth century, aerial photography has played an important role in archaeology: seen from the air, details come together to form a unified whole, fragments acquire a pattern, and the abstract becomes concrete. Structures of ancient urban settlements, buried cemeteries, and ancient drainage systems reveal themselves more clearly from above, and are often only discernible from the air. Moreover, aerial images show the site as a whole and how it is part of a larger landscape.
Georg Gerster, one of the world's finest and best-known aerial photographers, has taken pictures of archaeological sites for 40 years in more than 50 countries. His enormous output embraces both 2.5-million-year-old hominid sites in Ethiopia and fifteenth-century fortified churches in Romania. This article presents four of Gerster's images of fortresses and earthworks, selected from The Past From Above: Aerial Photographs of Archaeological Sites (Los Angeles: Getty Publications, 2005).
Charlotte Trümpler, head of the archaeological collection of the Ruhrlandmuseum Essen, is editor of The Past From Above.


© 2005 by the Archaeological Institute of America
archive.archaeology.org/0509/abstracts/aerial.html
Share