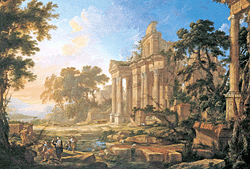 Landscape with Classical Ruins and Figures, Pierre-Antoine Patel (1648-1708) (Courtesy Museum of Fine Arts, Houston) [LARGER IMAGE]
In the seventeenth century, Europe's art academies, especially the French Royal Academy of Painting and Sculpture (founded in 1648), defined classical art as the standard for all artistic achievement. Throughout the Mediterranean stood the ruins of ancient monuments, and droves of tourists visited Italy on the Grand Tour (a rite of passage for noblemen) to experience their fallen grandeur firsthand. "The Splendor of Ruins in French Landscape Painting 1630-1800," opening July 17 at the Houston Museum of Fine Art (through October 16), evokes the allure these ruins had for painters, their patrons, and the public. Redolent of past and present, growth and decay, myth and history, ruins evoked deep emotional, philosophical, and literary responses. A landscape with the striking remains of the Temple of Vesta at Tivoli, for instance, could call to mind memories of an excursion outside Rome. Yet landscapes could also evoke complex sentiments about the fall of empires or a lost golden age.
Assembled from the collections of 24 museums across the U.S. and Canada, including the National Gallery of Art and the Metropolitan Museum of Art, "The Splendor of Ruins" presents 36 paintings by 20 French artists. Picturesque ruins become eloquent backdrops for biblical dramas, daydreams of shepherds and bacchantes, or meditations on the pettiness of modern life. The bucolic landscapes of Claude Lorrain feature nymphs and satyrs dancing among the fallen stones of a classical structure, in the background a quintessential Roman bridge. Working from scrupulously accurate architectural studies made during the eighteenth century in and around Rome, Hubert Robert speculates how St. Peter's piazza might look in the future after centuries of decay with Colonnade in Ruins. Particularly striking is Marius Meditating on the Ruins of Carthage, a ferociously romantic image of the defeated general by Pierre-Nolasque Bergeret. He was a student of Jacques-Louis David, the highly politicized court painter for Napoleon. In early modern times, the new science of archaeology evolved from the antiquarian interests that inspired these works.
The gorgeous catalog, edited by exhibition organizer Stephen Borys, is available through the Allen Memorial Art Museum at Oberlin College, where "The Splendor of Ruins" was on display from March 19 to June 19 accompanied by lectures, recitals, and symposia. Similar events are planned for the show's run in Houston.
Sandra E. Knudsen is associate curator of Ancient Art at the Toledo Museum of Art.
Click here for ARCHAEOLOGY's list of current exhibitions.


© 2005 by the Archaeological Institute of America
archive.archaeology.org/0507/reviews/ruins.html
Share