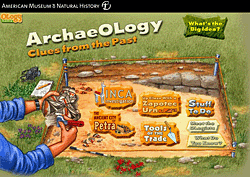 There's nothing quite like scraping away dirt layer by layer in the hot sun, but kids can pick up a virtual trowel at Ology, the American Museum of Natural History's award-winning website (ology.amnh.org) and learn what it's like to be an archaeologist. They can also explore other scientific arenas. Clicking on one of the eight "Ologies"--including Astronomy and Paleontology but also Einstein and Earth--takes the young explorer to a gallery of well-designed, fun, informative games.
In the archaeology section, visitors can choose among four activities: identify the buildings at the Inca site of Huanuco Pampa; stroll though the ruins of Petra in Jordan; help archaeologists figure out what tools to use as they search for a lost Spanish mission on St. Catherines Island off the Georgia coast; and read an interview with a Zapotec urn in the museum's collection. (Interviewer: "What do you see as your purpose in life?" Urn: "Well, I'd like to end world hunger and bring headdresses back into style. But in the meantime, I want to help people learn about the Zapotecs and their way of life.") Along the way kids can collect beeping, wiggling virtual cards on subjects like anthropology, artifacts, people, and tools: "You can tell whether an archaeologist is right-handed or left-handed by looking at her trowel," says the trowel card. The site strikes a perfect balance between engaging goofiness and imaginative learning, offering not just facts but a real sense of the tools, techniques, and approaches that archaeologists rely on.
But the best part of all may be the site's fieldwork section, "Stuff to do away from the computer." One ingenious suggestion, for learning how objects accumulate in layers and what those objects can tell about the people who used them, is to excavate the family trash can. Want to understand how much patience it takes for an archaeologist to reconstruct an ancient vase? Try decorating a pair of flowerpots, smashing them in a pillowcase, and then putting the pieces back together.
Polly Shulman is author of the forthcoming young-adult novel Enthusiasm.
Click here for ARCHAEOLOGY's multimedia reviews.


© 2005 by the Archaeological Institute of America
archive.archaeology.org/0507/reviews/ology.html
Share