Chaco Canyon in Cyberspace
Volume 58 Number 3, May/June 2005
by Tim Folger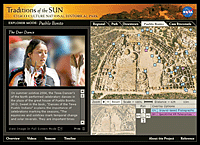 It's not easy to visit Chaco Canyon, the famous center of a remarkable civilization that thrived in parts of New Mexico, Arizona, Colorado, and Utah from A.D. 850 to 1250. Chaco lies 70 miles from the nearest town in a remote area of New Mexico, and the National Park Service intentionally leaves the approach roads in exceedingly rough condition to discourage visitors, who must navigate across 35 unpaved miles that often become impassable after thunderstorms or blizzards. The Chacoans' own wide and skillfully engineered thoroughfares, which ran across sere valleys and mesas for hundreds of miles, were probably better maintained.
Chaco is far more accessible via the website www.traditionsofthesun.org, a joint project of the National Park Service, NASA, and Ideum, an interactive design company. The site's main page features five sets of satellite images that successively zoom in on the starkly beautiful desert canyon, starting with a broad, regional view showing the extent of Chacoan civilization, and ending with a close-up of a single pueblo at the park. Dozens of clickable icons on the satellite images open up new windows displaying aerial photos, including some taken in 1929 by Charles and Anne Lindbergh; other icons link to time-lapse movies, including one that tracks sunlight passing over what may be a solstice marker on a ruin called Casa Rinconada.
Traditionsofthesun.org also hosts five short movies, including interviews with representatives of modern Pueblo tribes who consider Chaco to be their ancestral home. For them, Chaco's importance is not confined to the past. "Chaco is a very spiritual place for the pueblo people," says Shelly Valdez, a member of the Laguna tribe. "It is a living story." Anyone who has been to Chaco will appreciate this rich and thoughtfully designed website. Anyone who hasn't will be left with a hint of Chaco's grandeur, and a desire to see the real thing.
Tim Folger is a freelance science writer and editor of The Best American Science and Nature Writing.
Click here for ARCHAEOLOGY's index of multimedia reviews.


© 2005 by the Archaeological Institute of America
archive.archaeology.org/0505/reviews/chaco.html
Share