After decades of exile, an Afghan archaeologist returns to an excavation charged with symbolism and hope.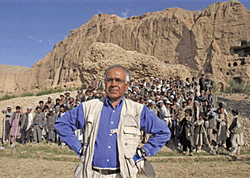 Zemaryalai Tarzi was director of Afghanistan's Institute of Archaeology when he was forced to flee the country a few months before the 1979 Soviet invasion. Tarzi, pictured here with his workmen, returned to his homeland in 2002 to find the elusive "sleeping" or "reclining" Buddha of Bamiyan, described by a seventh-century Chinese monk visiting the valley. (© Marc Deville/Gamma) [LARGER IMAGE]
Afghanistan's most notorious crime scene is now marked by a blue wooden sign that warns people to keep out, and the remains of Bamiyan's monumental standing Buddhas have been collected and cataloged. The huge stone niches cut into the hillside that once sheltered the enormous 1,500-year-old figures are empty. A few intrepid tourists wander by to stare mutely at their absence. The cultural destruction that visited this town in February and March 2001 appears complete.
About a mile from the hillside, outside a low-slung house, 65-year-old Zemaryalai Tarzi is hunched over a small, unidentifiable clay figurine. His white hair and deeply tanned face bob up and down in measured concentration as he deftly scrapes away mud from the object while discussing its recent recovery from a dig only a hundred yards from where the monumental Buddhas stood. Every few minutes, he interrupts our interview to allow an assistant to step in and remove the dirt. A bit later, he leads me to a small, dark room in the house where a dozen softball-size terra-cotta Buddha heads look up serenely from plastic bins on the floor. They remained safely underground when the Taliban destroyed the large Buddhas with explosives and artillery.
Tarzi hopes that the small Buddha heads he has unearthed are only the beginning; he is hunting something far larger. According to an account by a Chinese pilgrim who visited in the seventh century, Bamiyan hosts another Buddha that has been buried for centuries. Perhaps 1,000 feet in length, this "reclining" or "sleeping" Buddha represents the deity passing into Nirvana. The search for the reclining Buddha is also a homecoming for Tarzi, Afghanistan's most famous archaeologist. He left in 1979 as the country stumbled toward a quarter century of bloodshed. Tarzi has now devoted himself to locating the figure and is heading up a small excavation team funded by the French government. In so doing, he has taken on a project fraught with symbolic meaning. Uncovering the hidden Buddha, he believes, would signal the country's cultural resilience and possible resurgence. But Tarzi is discovering that the search's symbolism may be as much a burden as a benefit.
David Bosco is staff editor at Foreign Policy magazine.


© 2005 by the Archaeological Institute of America
archive.archaeology.org/0501/abstracts/afghan.html
Share