Scholars seek West Africa's medieval past in the city's little-known manuscripts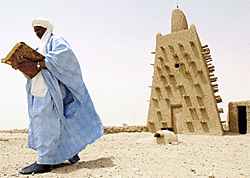 Abdelkader Es-Sayuti, the imam at the Djingareyber Mosque in Timbuktu, reads a fifteenth-century theology text. (Xavier Rossi/GAMMA) [LARGER IMAGE]
The fabled city of Timbuktu was founded in the eleventh century by nomads seeking shelter from the Sahara desert on the cool banks of the Niger River. The popular campsite became a center for the Saharan gold and salt trades, and Arab traders and scholars soon arrived. By the fourteenth century Timbuktu was the commercial hub of a mighty empire, and in its fifteenth- and sixteenth-century heyday it was an Islamic center of learning that attracted thousands of students from all over West Africa. But much of Timbuktu's vibrant economic and intellectual energy disappeared during the sacking of the city by Moroccan invaders in 1591, when many of Timbuktu's great scholars were kidnapped and taken to the continent's northern shores. Today Timbuktu occupies a remote part of Mali, one of the world's poorest nations. But behind the city's simple mud-walled buildings are strong links to this storied past.
Seated in front of his computer, where he writes books on philosophy and history, including Les Juifs à Tombouctou, or Jews of Timbuktu, about Jewish life in the city in the nineteenth century. Ismael Diadie Haidara continues a family tradition of scholarship that stretches back more than eleven generations. A slender man wearing a brown robe and reading glasses, Haidara is a descendant of Ali B. Ziyad al-Kuti, who emigrated to West Africa from Toledo, Spain, in 1468. Kuti brought a collection of manuscripts with him and bought more along the way.
| | |
| --- | --- |
| | Detail from an illuminated Koran paid for in gold in early thirteenth-century Fez (Xavier Rossi/GAMMA) [LARGER IMAGE] |
One of the books in Hadaira's library is the Tarikh al-Fattash, a history of the Sudan up to the late sixteenth century, by another of Haidara's ancestors, Mahmud al-Kati, an ophthalmologist, lawyer, and astronomer. There are thousands of such manuscripts in Timbuktu, mostly in private family collections. Written mainly on paper imported from Europe and, rarely, on animal skin, many manuscripts are falling apart. Some of the collections are stored in old chests, where they have been ravaged by bugs and time. Recently, however, grants from Western foundations have enabled a few of the owners of the larger private collections to build basic storage facilities and bookshelves.
The manuscript collections may hold clues for archaeologists and historians seeking to learn more about Timbuktu, where a difficult and sometimes dangerous environment, including poor soil conditions and flooding, has held back archaeological work. Timothy Insoll, one of the few archaeologists who have excavated in the city, says the Tarikh el-Sudan, a sixteenth history of the West African region ("tarikh" is "history" in Arabic), was helpful in studying an area in which there was a collection of mosques and scholars' residences now referred to as the University of Timbuktu. Insoll says that some documents in the manuscript collections may provide information about aspects of material culture, including industries in the area such as gold mining and textile manufacturing.
Alex Ulam is a freelance journalist who writes frequently on cultural issues. His work has appeared in Discover, Wired, The National Post of Canada, Metropolis, and other publications.


© 2004 by the Archaeological Institute of America
archive.archaeology.org/0407/abstracts/timbuktu.html
Share