Letter From Colorado: Anasazi in the Backyard
Volume 57 Number 4, July/August 2004
by Andrew Curry
Controversy dogs America's first archaeological subdivision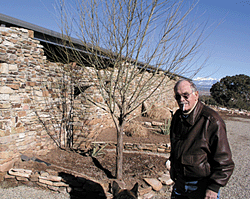 Real-estate developer and archaeology enthusiast Archie Hanson in front of a structure he built to shelter an ancient Pueblo site on his Colorado property (Andrew Curry) [LARGER IMAGE]
When California real-estate developer Archie Hanson bought a 1,200-acre ranch in Cortez, Colorado, in 1989, he took the unusual step of commissioning an archaeological survey of the property before subdividing it. An archaeology enthusiast, he thought that with luck, he might have a couple of dozen ruins.
His optimism wasn't unfounded. Cortez sits in an archaeological hot spot, with an estimated 80,000 sites in surrounding Montezuma County alone. Hanson's ranch is next to the 165,000-acre Canyon of the Ancients National Monument. From Hanson's front door, it's a half-hour drive through winding canyons to Mesa Verde National Park. And just down the road is Crow Canyon Archaeological Center, a nonprofit organization that teaches thousands of people a year about the Native American cultures that have peopled this corner of the Southwest for millennia.
Even so, the survey results were a surprise. Hanson's land had 210 individual sites on it, the densest concentration of ruins on record in the state of Colorado. "I could recognize five or six ruins as an amateur. When we found out we had 210 ruins, it became apparent we had a responsibility," Hanson says. "What would you do as a private individual if you found out you had something of worldly importance. How would you treat it?"
How Hanson answered that question has kept the archaeological community in and around Cortez buzzing ever since. After dividing the ranch into nineteen high-end lots, Hanson sat down and wrote up rules governing how prospective buyers were expected to treat any ruins found on their land.
The result: Indian Camp Ranch, which Hanson proudly calls "America's First Archaeological Subdivision." His dream was to gather a collection of homeowners dedicated to preserving and exploring the archaeology of the region, with responsible excavations in each backyard. For Hanson, the years since he announced his plans in 1989 have been an often rocky learning process.
Andrew Curry is a general editor at Smithsonian.


© 2004 by the Archaeological Institute of America
archive.archaeology.org/0407/abstracts/letter.html
Share