In southern Iraq specialized troops pursue armed looters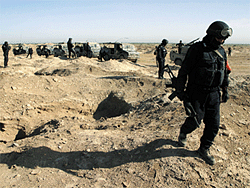 The long shadow of a member of the Carabinieri, the Italian national police force, falls on sherds at much-looted Umma. (Micah Garen) [LARGER IMAGE]
The ride out to Umma, a third-millennium B.C. Sumerian settlement northwest of Nasiriya, is grueling. I spend much of the trip trying to remain in the military truck, which knocks me about as it rattles over dirt roads. I am accompanying the Carabinieri, the Italian national police, as they patrol archaeological sites in southern Iraq. Since the autumn of 2003, the Carabinieri, a part of the coalition force, have been conducting random patrols on the ground and by helicopter, as well as aerial reconnaissance to photograph and document the damage from looters. These forces have special training in site protection. Checking just three sites can take up to ten hours.
As we turn off the long canal road on a stretch west of Umma, a small truck approaches. The Carabinieri stop and surround the vehicle, guns drawn, to check for stolen artifacts. They find only a sheep and some bales of wool. At Umma, modern Tell Jokha, a new but empty guard tower stands sentinel near a devastated landscape. Today there are no looters at work, but last year, shortly after the U.S.-led invasion, thieves ravaged Umma by digging hundreds of trenches in their search for salable artifacts. A coalition raid led by U.S. Marines in May 2003 resulted in the arrest of a hundred of them and seems to have put an end to large-scale illegal excavations. Looting continues, however, on a smaller but still destructive scale. A single guard with a rifle for his own protection wanders the site. He complains that the patrol needs to come at night--that's when the looters come. He points to a new trench ten feet deep, only two days old.
A few miles northwest of Umma is the site of Fara (modern Shuruppak). As we approach, the Carabinieri spot through binoculars what they believe are a few looters in the distance. By the time we arrive at the site, they have disappeared into the desert. The invasion in March 2003 has had a significant impact on archaeological sites in Iraq. Satellite photographs of the region from 2000 show there was already extensive damage from looters, but Abdul-Amir Hamdani, director of antiquities in Dhi Qar Province, where Umma is located, says there was as much looting in the south in the first three months after the invasion as there was in the previous ten years. Watching the looting, Hamdani says, made him feel "like a man who lost his lover in a great sea and stood waiting on the shore looking for her."
Micah Garen is a journalist, photographer, and documentary filmmaker in New York. Marie-Hélène Carleton and Munawar Zubeidi contributed to this article. For more on Iraq's cultural heritage, visit archive.archaeology.org/iraq.


© 2004 by the Archaeological Institute of America
archive.archaeology.org/0407/abstracts/iraq.html
Share