Does Greece Need the Olympics?
Volume 57 Number 4, July/August 2004
by Jarrett A. Lobell
Yes--and a tour of Athens will show you why.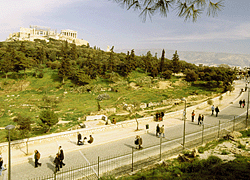 Visitors to Athens can now walk along Dionysou Areopagitou Street, part of the Ministry of Culture's planned Unification of Archaeological Sites, which will eventually make it possible to see all of Athens' major archaeological sites from walkways. (Thalassini Douma) [LARGER IMAGE]
Greece is a country in need of a confidence boost. The nineteenth-century romantic decay popularized by philhellenes like Keats and Byron has given way to twentieth- and twenty-first-century realities: Athens is a city often remembered as much for its smog and stray dogs as for its antiquities. Too many cars, insolent drivers, and a lack of pedestrian walkways make exploring the city on foot a death-defying experience. The Parthenon has been shrouded in scaffolding for almost twenty years. The sorry state of many ancient monuments and museums around the country is cause for embarrassment and alarm, and a convenient excuse to those at the British Museum who refuse to return the Parthenon (Elgin) Marbles to their homeland.
But Greece is working hard to change this unflattering image. From August 13 to 29, Athens will host the Games of the XXVIII Olympiad and XXII Paralympics. The opportunity provided by these events is lost on no one. In a clear demonstration of the importance of the Games, the newly elected prime minister, Costas Karamalis, appointed himself culture minister, the first time both positions have been held by the same man. Thus he will be held largely responsible for the success or failure of the Olympics. Unlike their ancient counterparts, the upcoming Games will take place in Athens, not Olympia (although one event, the shot put, will take place in the stadium at Olympia). But very much like the ancient Games, which also took a massive amount of construction and organization, the 2004 Games have provided a jump start for a much-needed and long-ongoing urban building program that has renewed both modern and classical Athens. Archaeology is central to much of this program, and indeed to much of 2004 Olympics' identity.
Jarrett A. Lobell is photo editor of ARCHAEOLOGY. She thanks the Hellenic Ministry of Culture, Athens 2004, the Ministry of Press and Mass Media, the Organization for the Construction of a New Acropolis Museum, and Attiko Metro for their gracious assistance. Click here for more on the ancient Olympics.


© 2004 by the Archaeological Institute of America
archive.archaeology.org/0407/abstracts/athens.html
Share