Letter from Cambodia: Night Shift
Volume 57 Number 3, May/June 2004
by Karen J. Coates
Photographs by Jerry Redfern
Camping out at Preah Khan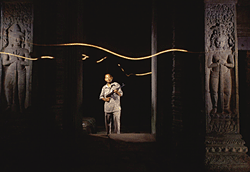 So Sambath, his AK-47, and Hindu monsters guard Preah Khan. [LARGER IMAGE]
Dusk falls upon the sprightly nymphs and intricate lintels of Preah Khan, and the carvings seem to dance in the gloaming. A faintly pink sky glosses over lily pads. "Maybe the ghosts will come," teases Morn Sor, our 21-year-old Cambodian guide and translator. When he was a boy, his mother would tell him about the ghosts in the countryside. One evil spirit, dressed in white, would appear to her in the nighttime forest. But Morn doesn't believe in ghosts. He says he isn't afraid to spend the night at the ancient Angkor temple with the cops who guard it.
Jerry and I have explored these Angkor ruins a dozen times since 1998, when we lived in Cambodia. The huge temple of Preah Khan, with its many passages and corners to explore, is one of our favorites. We are here this evening because of Keuen, a Preah Khan guard whom Jerry and I met the year before.
He claimed to have fended off looters with his AK-47 and a shoot-first-ask-questions-later policy. This got our attention. Shoot-outs? Chases? Bullets richocheting off temple walls? I imagined that at night the ancient temple became the stage for a noir thriller. Everyone savors these archaeological wonders by day--but what would the experience of Preah Khan be at night? We wanted to camp out with the guards to find out.
| | |
| --- | --- |
| | A pair of apsaras, or celestial dancers, that were decaptitated by looters [LARGER IMAGE] |
It was a fine idea, but getting permission put us face to face with Cambodian egos in a stratified social order. It required several meetings with Preah Khan's top guardian cop, Prum Saroeun; a few minor altercations with government workers; a multitude of phone calls and faxes to Phnom Penh; several rounds of beer; and a $60 "protection fee." It all comes down to power--the most precious commodity in Cambodia.
We arrive at the temple entrance in yellow twilight as the day's last tourists exit. Trees growing throughout the temple shimmer by day but look menacing now. Incense still scents the hallways. Locals come here to pray--as they always have--near a favorite statue or ruin. Buddhist nuns, frequently widows, station themselves throughout the temples, lighting incense and taking small donations from visitors.
Karen J. Coates is a freelance journalist based in Thailand. Her book on contemporary Cambodian life will be published by McFarland & Company later this year. Jerry Redfern is a member of AsiaWorks Photos in Bangkok.


© 2004 by the Archaeological Institute of America
archive.archaeology.org/0405/abstracts/letter.html
Share