Television: Closing in on the Portland
Volume 57 Number 2, March/April 2004
by Eric A. Powell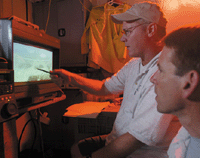 Archaeologist Bruce Terrell points out features of the Portland, a steamship that sank off New England in 1898. A new documentary showcases recent dives to the wreck. (The Science Channel) [LARGER IMAGE]
It's still called New England's worst maritime disaster. On the night of November 26, 1898, the steamship Portland went down off the coast of Massachusetts, leaving no survivors. A collision between two high-pressure systems caused a sudden, deadly storm that swamped the vessel, which was carrying an estimated 192 passengers and crew bound for Maine. The disaster lead to an overhaul in the design of passenger steamships.
Recent sonar surveys by the National Oceanic and Atmospheric Administration (NOAA) have pinpointed the vessel's location. The Wreck of the Portland, premiering March 5, at 9 p.m. ET on the Science Channel, follows a NOAA team as it pilots a remotely operated vehicle (ROV) down 400 feet to get the first images of the wreck.
The documentary relies on the obligatory computerized reconstruction of the Portland's struggle against the storm and also makes use of archival images to tell the history of the doomed vessel. But for the most part the filmmakers eschew historical melodrama in favor of showcasing the NOAA maritime archaeologists and the ROV crew. We follow along as the team plans its dives, worries about the impending Hurricane Isabel, and finally reaches the wreck site. The documentary doesn't have much in the way of narration to explain what we're seeing, allowing the team's often giddy dialogue to do the job of guiding the viewer through the wreck.
The expedition doesn't go off without a hitch--the ROV gets tangled in "ghost nets," fishing gear that has collected on the wreck over the years, and the archaeologists are unable to pin down the exact cause of the Portland's sinking. By the end, the team is openly musing about future expeditions to the wreck with a new generation of ROV.
Click here for a list of ARCHAEOLOGY's multimedia reviews.


© 2004 by the Archaeological Institute of America
archive.archaeology.org/0403/reviews/portland.html
Share