Picture Perfect
Volume 56 Number 6, November/December 2003
by Tom Gidwitz
How an ingenious former fashion photographer managed to capture on film the mind and spirit of the ancient Maya
| | |
| --- | --- |
| | With his homemade peripheral camera, Justin Kerr has made rollout photographs of thousands of Maya cylinder vases, providing scholars with an indispensable tool for understanding the themes of Maya art. (Courtesy Justin Kerr) [LARGER IMAGE] |
In a cluttered studio in New York's Flatiron district, a thousand-year-old Maya vase spins slowly on a turntable. On its painted surface is a puzzling scene: a ruler sitting on a bearded dragon gazes down at a baby in the hands of a black-eyed death god.
This could be a kidnapping, a sacrifice, or the offering of an unsettling gift. But it's hard to tell for certain, because this ten-inch vase is so narrow that its figures are only visible one at a time.
An arm's length away, Justin Kerr is staring down into the viewfinder of his renowned rollout camera, watching the rotating vase's surface slide past. When he presses the shutter release, the film winds past the lens at a speed matched to that of the rotating vase. With a single exposure it turns the cylindrical vase into a flat panorama, all of its enigmatic characters visible at once, like players interacting on a stage. Kerr will scan this image, print it, and post it on the web for all to see.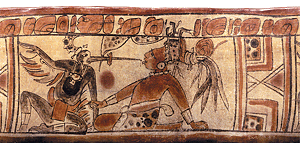 A rollout photograph shows an entire scene only hinted at in the vase's three-dimensional form. Here, a hummingbird-man draws blood from a man's tongue, an act similar to self-inflicted bloodletting prevalent among the Maya. (Courtesy Justin Kerr) [LARGER IMAGE]
For more than a hundred years photographers have opened the world's eyes to the Maya. At the turn of the century, explorers and adventurers took wet-plate cameras into the jungles of Mexico and Guatemala and emerged with marvelous pictures of ruins, sculpture, and fantastic glyphs. Now, this Bronx-born former fashion photographer is helping Mayanists make new discoveries with his books, journals, and symposia, and the thousands of images he distributes for free.
Kerr's photographs chart a personal odyssey he has taken with his wife and creative partner, Barbara, as they have imbibed the wonders of the Precolumbian world. Kerr is a tall, dark-haired, broad-shouldered man with a keen gaze and an endless supply of stories, and Barbara is a petite, blond presence at his side, prompting him with forgotten details. Their apartment, down the hall from Kerr's Manhattan studio, is steeped in Mesoamericana--cut tin lamp shades, Spanish colonial tiles, ancient textiles, scores of Mexican folk retablos, and shelves of Precolumbian pottery and sculpture. The couple's voices thrill when they describe Maya art, whether it is a collection that Kerr photographed in the New York City suburbs last week or a masterpiece they saw 30 years ago in the jungle. The Kerrs' enthusiasm for Precolumbian art has inspired Justin to become a teacher, epigrapher, publisher, and inventor, Barbara a restorer of damaged pots and sculptures. From the beginning, their goal, Kerr says, has been "to reach back through the centuries and capture today on film something of the mind and spirit of the great Maya people." And the journey they have taken has changed the way we see the past.
Tom Gidwitz is a contributing editor of ARCHAEOLOGY.


© 2003 by the Archaeological Institute of America
archive.archaeology.org/0311/abstracts/kerr.html
Share