Museums: Virtual Earthworks
Volume 56 Number 5, September/October 2003
by Ronald Hicks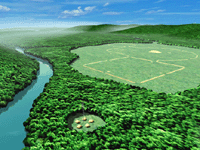 Re-created earthworks near Paint Creek, Ohio (EarthWorks) [LARGER IMAGE]
Ohio was once the home of cultures that produced vast, geometric earthworks most of which were leveled by pioneer farmers of the nineteenth century or by more recent construction projects. Now, thanks to a University of Cincinnati project called EarthWorks, we have a chance to see how they once appeared. EarthWorks uses frontier maps, archaeological data, and information from aerial photography and satellite imagery to produce high-resolution computer models of a number of these sites. These are on display at "Earthworks: Virtual Explorations of the Ancient Ohio Valley," an exhibition at the Cincinnati Museum Center's Museum of Natural History that concentrates on the Cincinnati, Pollock, Stubbs, Fosters, and Fort Ancient sites of southwestern Ohio.
Visitors choose options on a computer screen that are then flashed on a wall--images of the re-created earthworks, information about recent excavations, and videos explaining the lifeways, environment, religion, and history of the cultures that made them, as well as recent excavations and efforts to preserve the sites. The exhibition also includes 2,000-year-old Adena and Hopewell artifacts. A similar EarthWorks exhibition, focusing on the Scioto River Valley in central Ohio, is now on view at the Hopewell Culture National Historical Park in Chillicothe, Ohio.
Click here for ARCHAEOLOGY's list of museum exhibitions.


© 2003 by the Archaeological Institute of America
archive.archaeology.org/0309/reviews/ohio.html
Share