Television: Let Slip the Cogs of War
Volume 56 Number 4, July/August 2003
by Paul Thacker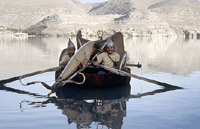 Squeezed in next to their chariot, two "Assyrian warriors" paddle a boat across a river in "Chariots of War." (Discovery Channel) [LARGER IMAGE]
The British television series Ancient Arsenal (formerly known as Retro Tech) continues its ambitious effort to rebuild the war machines of ancient cultures. The latest installments are "Chariots of War" and "Fire Ships," premiering in the U.S. on the Discovery Channel June 22, 9 to 11 p.m. EST. The shows re-create the nuts and bolts of ancient military technology by bringing scholars together with specialists like carpenters and munitions experts.
In "Chariots of War," archaeologists are matched with horse trainers and an expert on ancient weapons to make Assyrian chariots. With no written record of such chariots to go on, the team members base their designs on alabaster reliefs in the British Museum. Then they're off to southeastern Turkey, once part of the Assyrian Empire, where they hire local artisans to build the chariots out of wood and rawhide. They also devise harnesses and train recalcitrant local horses to pull the chariots across the rugged Turkish countryside.
The team builds both a light, two-horse chariot and a heavy, four-horse one. The final products do a good job of illustrating Assyrian battlefield tactics, but they aren't the soundest machines ever constructed--both wind up in pieces by the end of the program.
The second installment re-creates the Byzantine fire ship, a brutal war machine. In A.D. 674, with Constantinople surrounded by an Arab invasion force, Constantine IV launched a fleet of ships that catapulted Greek fire (an incendiary compound similar to napalm but whose exact composition is unknown), and even used flamethrowers to beat back the enemy navy.
There is one twelfth-century illustration of the flamethrower for the team to go on, but with no surviving recipe for Greek fire, an explosives specialist makes do with an alarmingly simple mixture based on fuel and mayonnaise. A craftsman designs a catapult to sling glass balls filled with the Greek fire, and a metallurgist and welder build a simple flamethrower. Overseeing the project is Byzantine military historian John Haldon, whose preoccupation with historical accuracy often clashes with the technicians' safety concerns. The engineering types clearly feel the ancient flamethrower was more dangerous to those operating it than the enemy, and it's impossible to escape the conclusion that the average Byzantine sailor was pretty skeptical about the contraption too.
When it comes time to test the military hardware, the machines are mounted on a ship. The catapult then hurls the mayo-based Greek fire at a stationary target boat, failing to damage it. However, the flamethrower, despite some disturbing leaks, does an excellent job of incinerating the tiny boat with burning crude oil, far surpassing the team's expectations. In the end, though, the real victory is simply that the flamethrower doesn't explode.
Click here for ARCHAEOLOGY's multimedia reviews.


© 2003 by the Archaeological Institute of America
archive.archaeology.org/0307/reviews/arsenal.html
Share