A River Rising
Volume 56 Number 4, July/August 2003
by Jeffrey Austin
Time runs out for towns and monuments in the path of the Three Gorges Dam.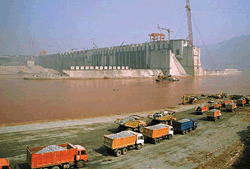 [LARGER IMAGE]
Trucks loaded with building material are dwarfed by the massive Three Gorges Dam, which, when complete, will generate the equivalent power of eighteen nuclear plants and flood thirteen major cities. (Jeffrey Austin)
In October 2001, I spent several weeks traveling around Hubei Province, home of the Three Gorges Dam, photographing historic towns and archaeological sites that will no longer exist by this summer, when the dam reservoir will be full. There were few indications then of the large-scale displacement of people and monuments that I was to witness on my return to Hubei exactly a year later. On that later trip, I was struck by the sense that time was running out. In less than eight months the water level would rise almost six hundred feet, submerging much of the area surrounding the Yangtze's three dramatic gorges: Qutang, Wuxia, and Xiling. Everywhere I went, workers and villagers were preparing for the big event. It was difficult to see how all the work would get completed in the next few months.
Jeffrey Austin is a photojournalist focusing on developing countries. Additional work can be viewed at www.jaustinphoto.com.


© 2003 by the Archaeological Institute of America
archive.archaeology.org/0307/abstracts/dam.html
Share