Television: Who Wants to Be a Legionnaire?
Volume 56 Number 3, May/June 2003
by Jason Urbanus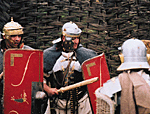 [LARGER IMAGE]

"Roman" recruits square off in the new reality series Warrior Challenge. (Courtesy Thirteen/WNET)
As the worldwide phenomenon of reality television continues to dominate nightly programming, not even the Roman Empire is safe from television executives. This time nobody's getting married and the setting is not a deserted island but rather a Roman outpost in northeastern England.
The premiere episode of Warrior Challenge, a series put together by Thirteen/WNET New York in association with Britain's Channel 5, airs May 6 on PBS (check local listings for times) and focuses on the life of auxiliary Roman soldiers stationed along Hadrian's Wall. Eight volunteers--four men from the U.S. Air Force and four from the British Emergency Services--spend the weekend at the Arbeia fort, where they live, eat, train, and fight as Roman legionnaires of the late second century A.D.
Upon arrival, the volunteers are immediately stripped of modern amenities, including their clothes, and are outfitted with tunics, sandals, old-fashioned underwear, and replica Roman armor, which doesn't always fit. To their dismay, the modern recruits discover that the weight of ancient armor is burdensome, especially during a long march, for which each soldier is not only fitted with body armor, sword, javelin, and a shield but is further weighed down by a sixty-pound pack of provisions and other gear. While the grueling march is perhaps the show's biggest challenge, the cameras do a good job of capturing other difficulties the recruits endure as they are forced to live in cramped quarters, cook their own meals, and cope with the miserable cold of northern England.
With its voyeuristic peek at twenty-first-century soldiers struggling with the lifestyle of second-century warriors, Warrior Challenge offers all the guilty pleasures of reality television, but there are bona fide experts on hand to explain the finer points of the day-to-day realities of Hadrianic-era soldiers.
Bottom line: you won't be ashamed you watched it.
Click here for a list of ARCHAEOLOGY's multimedia reviews.


© 2003 by the Archaeological Institute of America
archive.archaeology.org/0305/reviews/romans.html
Share