Big Time Fine For Cave Looter
Volume 56 Number 2, March/April 2003
by Eric A. Powell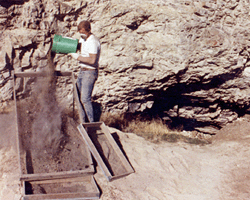 A photographer catches Jack Lee Harelson in the act of looting a rock shelter. (Courtesy BLM) [LARGER IMAGE]
The discovery of 2,000-year-old bodies of two children buried in the backyard of a former insurance agent has resulted in one of the largest fines ever assessed for archaeological looting in the United States. A federal judge has ordered Oregon resident Jack Lee Harelson to pay $2.5 million for destruction of archaeological resources at Elephant Mountain Cave, a rock shelter on public land in Nevada's Black Rock Desert.
According to the government, Harelson dug at the site for years, building a wall to conceal the dirt pile he created. James Patrick Barker, Bureau of Land Management (BLM) archaeologist for Nevada, calls Elephant Mountain Cave one of the Great Basin's most significant cave sites and the damage caused by Harelson incalculable. For his part, Harelson claims that he only dug a "test hole" to interest archaeologists in the site and did not remove nearly as much earth as the BLM claims he did.
The case began when authorities, acting on a tip from Harelson's former wife, found the children's bodies buried in his backyard. The children had originally been interred in baskets, along with grave goods that included rabbit nets, obsidian blades and deer-hoof rattles, all of which were found in Harelson's possession.
A pair of sandals that Harelson took from the cave have been radiocarbon dated to 10,000 years ago, making them the oldest footwear in Nevada and among the oldest in the world. "We've already had a woman in Utah return similar sandals that her husband looted after she read an article on the case," says Barker. "I think we've sent an absolutely clear message that we will do what we have to do to prosecute these crimes."


© 2003 by the Archaeological Institute of America
archive.archaeology.org/0303/newsbriefs/looter.html
Share