Television: Rescuing Tibetan Temples
Volume 56 Number 1, January/February 2003
by Mark Aldenderfer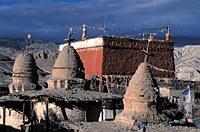 Thubchen Gompa, a mud-brick temple in the Tibetan kingdom of Mustang (Liesl Clark for NOVA) [LARGER IMAGE]
By a twist of historical fate, part of ancient Tibet--the Kingdom of Mustang--has survived in northern Nepal. Its capital, Lo Manthang, contains two extraordinary treasures of the Tibetan past--the temples Thubchen Gompa and Chöede Gompa. Both house extraordinary Buddhist murals and statuary dating to the fifteenth century. They are now both threatened with destruction--in this case, not by a repressive government like the one that destroyed countless artistic and cultural treasures in Tibet proper, but by neglect and poverty.
The Lost Treasures of Tibet (produced for NOVA and airing on PBS, February 18, 8:00 p.m. EST) recounts the fascinating story of the restoration of Thubchen by a team of Western architectural historians and conservators. The project faced numerous technological challenges: the temple's 200-ton roof was near the point of collapse. Cracks split the murals, and water leakage separated the painted plaster surfaces from the walls, leaving some of the paintings literally hanging in space. Countless butter-tea lamps left black, oily soot on the murals. The documentary depicts how local craft and construction traditions were revitalized to stabilize the building, and how these were combined with Western methods to conserve the remaining art and display it in its original glory.
| | |
| --- | --- |
| | A fifteenth-century painting of Buddha restored to its original splendor. (Liesl Clark for NOVA) [LARGER IMAGE] |
The details of the restoration are fascinating, but the documentary is at its best when it captures the human story surrounding the project. Tension emerged between the team and residents of Lo Manthang after the art conservators, consistent with Western heritage management, were content only to clean and stabilize the murals. The locals, however, while appreciative of the beauty of the restored but incomplete images, wanted them to be returned to their original pristine forms. They reasoned that Thubchen was a place of worship, and they wanted to worship whole images. Taken aback, the conservators developed a compromise to re-create some but not all parts of the damaged images. While everyone deemed the project a success, a proposed restoration of Chöede, which is equally threatened, was postponed by the king of Mustang. The documentary ably but subtly explores the question of the ownership of the past and how indigenous people can find a voice in the preservation of their heritage.
Click here for ARCHAEOLOGY's multimedia reviews.


© 2003 by the Archaeological Institute of America
archive.archaeology.org/0301/reviews/tibet.html
Share