Books: Reflections Amid the Ruins
Volume 56 Number 1, January/February 2003
by Louis Werner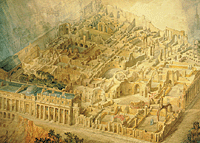 Eighteenth-century architect and painter John Gandy imagined the Bank of England in ruins. (Courtesy of the Trustees of Sir John Soane's Museum, London) [LARGER IMAGE]
Who hasn't gazed at a great field of ruins and not thought of something smaller--their own lives, perhaps. British architectural historian Christopher Woodward has, and in his book
In Ruins (New York: Pantheon, 2002; $24) he finds much company among writers and painters, both those touring ancient Roman sites and those visiting the blitzed remains of Coventry Cathedral back home. Sometimes, says Woodward, the urge after seeing a pile of jumbled stones is not to imagine them as they were but rather to meditate on our own future.
Woodward quotes liberally from sources as varied as the historian Edward Gibbon and the boxer "Marvelous" Marvin Hagler in this thought-provoking grand tour of familiar--and lesser-known--stops along the (mainly Italian) archaeological trail. The Forum, the Baths of Caracalla, and the Colosseum are there to be sure, but also the abandoned provincial town of Ninfa, an hour south of Rome, and the bombed-out Baroque palace in Palermo belonging to the Lampedusa family, whose tragic history was captured in Giuseppe Tommasi di Lampedusa's great novel The Leopard.
"What a strange thought that the Colosseum was really built for us, and has not come to its best uses till almost two thousand years after it was finished," says a tourist in Nathaniel Hawthorne's story "The Marble Faun," moved by the mystery of its ruined interior. This sense that the true purpose of classical ruins is to give us moderns a frisson of the past wasn't limited to nineteenth-century Romantics. In 1462, Pope Pius II declared Rome's ruins under his protection to serve as an "exemplary frailty" of the human condition.
| | |
| --- | --- |
| | Byron, Poe, Stendahl, and Goethe were all moved by the Colosseum, but only as an overgrown ruin. Since it was drained of stagnant water and picked clean of plant life in 1870, few others have been similarly inspired. Woodward notes one exception--Adolf Hitler, who decided after his visit in 1938 to use only marble (forget such ignoble materials as concrete and steel!) in erecting his Nazi architecture. |
Woodward is at his best on home turf. He notes that Britain has gone through at least three cycles of architectural destruction and subsequent fascination with ruins. Most of the 650 abbeys seized by Henry VIII are either half or all gone. The German blitz did a good job on much of Bath, Coventry, and central London. World War II also led to the demise of rural England's great manor houses, many requisitioned for military use and finally returned to private hands in abominable and irreversible condition. The impulse for visiting each of these three kinds of "going, going, gone" buildings has changed over time. In the eighteenth century, ruined abbeys were thought to be merely picturesque. The shell of Coventry Cathedral is now a war memorial, a place of pilgrimage. But the loss of the manor houses spawned a preservation movement that has now rippled across the globe, inspiring the work of UNESCO, the International Council on Monuments and Sites, and the World Monuments Fund.
Click here for ARCHAEOLOGY's bookstore.


© 2003 by the Archaeological Institute of America
archive.archaeology.org/0301/reviews/ruins.html
Share