Vile Finds
Volume 56 Number 1, January/February 2003
by Eric A. Powell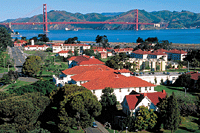 The Presidio, where an archaeologist was recently exposed to mustard gas (Courtesy Presidio Trust) [LARGER IMAGE]
Archaeological discoveries are nothing new at San Francisco's Presidio, a former Spanish, Mexican, and U.S. military base now run by the National Park Service. Excavations at the national landmark have turned up fancy Spanish majolica and U.S. Army-issue officers' china, among other artifacts. So when park volunteers unearthed four small glass vials while removing trees, they turned them over to the Presidio's archaeological lab for analysis. They had no idea they were handling a potentially lethal chemical.
"When I began rinsing the vials I saw that a label had been painted on them reading 'HS Toxic Gas,'" recalls archaeologist Megan Wilkinson, who was attempting to identify the "artifacts." "Wetting them must have reactivated the agent in the vials because I started to smell sulphur. I called our hazardous materials crew, and the area of the lab where I was working was cordoned off." She soon learned that "HS" is military shorthand for mustard gas.
"When the army left they swore up and down that there was nothing like that here," says Wilkinson. "But the vials were probably left over from training during WWI or WWII." A search of the area where the vials were found turned up no other chemicals. The Army Corps of Engineers is now researching the origin of the mustard gas.
As a result of handling the vials Wilkinson suffered minor irritation "like a bad sunburn" on one hand. She was back at work the next day.


© 2003 by the Archaeological Institute of America
archive.archaeology.org/0301/newsbriefs/vials.html
Share