It Takes a Fortified Village
Volume 56 Number 1, January/February 2003
by Paul Thacker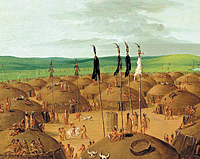 [LARGER IMAGE]
An early eighteenth-century painting of a Mandan village by artist George Catlin. A collection of George Catlin's work is on display until January 20, 2003, at the Smithsonian American Art Museum. (Courtesy Smithsonian American Art Museum/Gift of Mrs. Joseph Harrison, Jr.)
The first evidence for prehistoric earthen ramparts on the Great Plains has been discovered at Double Ditch, a Mandan village site in North Dakota. University of Arkansas archaeologist Ken Kvamme has also found that the village, originally dated to the late 1600s, is three centuries older and almost twice as large as previously believed. Kvamme also located two defensive ditches beyond those already known from aerial photographs. These ditches are about ten feet deep with steep sides and, surprisingly, seem to incorporate earthen mounds along the defensive line. "We speculate they were used as ramparts, which are unknown in this area," says Kvamme.
Ramparts were thought to have been introduced to the Great Plains by Europeans, and their possible use at Double Ditch suggests to Kvamme that the Mandan were more sophisticated than once thought. The sheer size of the site is also surprising. Preliminary data suggest it was likely the largest prehistoric settlement on the Great Plains, and may have supported as many as 3,000 people.
What the fortifications could not protect against was disease. Double Ditch was probably abandoned after the smallpox epidemic of 1781 (Lewis and Clark found it empty when they visited North Dakota in 1804). Reduced in total number from 12,000 to only 1,500, the Mandan were hit again by smallpox in 1837. Only 125 survived.


© 2003 by the Archaeological Institute of America
archive.archaeology.org/0301/newsbriefs/mandan.html
Share