Museums: Wonders of Whaling
Volume 55 Number 6, November/December 2002
by Tom Gidwitz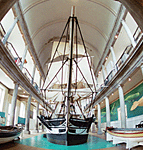 The museum's 89-foot-long model of a whaling ship (Grandison Taber) [LARGER IMAGE]
Most of us think of whaling as a colorful early New England industry, as depicted in Moby Dick: Nantucket sleighrides, cries of "Thar she blows!," bloody harpoons, and pots of boiling whale oil. But man has hunted whales for thousands of years, and Massachusetts' New Bedford Whaling Museum, located in what was once the whaling capital of the world, is broadening its traditional Yankee focus to take in cultures from across the ages and around the globe. An October 2001 merger with the Kendall Whaling Museum of Sharon, Massachusetts, brought that institution's collection to New Bedford, and created the world's largest whaling museum, with nearly 200,000 objects.
Newly on display are two Early Nazca spouted ceramic pots from Peru: a 200 A.D. vessel in the form of a killer whale, and a jug with a killer whale painted on the side. Whales were a powerful fertility symbol for the Early Nazca, and their images played a role in head-hunting rituals--a human head is painted on the bottom of the killer whale-shaped vessel.
| | |
| --- | --- |
| | A killer whale spouted vessel from Peru (Michel Zilberstein) [LARGER IMAGE] |
The New Bedford museum was created in 1903 by local citizens eager to honor the city's former glory. It has an 89-foot-long, half-scale model of a three-masted whale ship, a full-size replica of a whaling ship's forecastle, and a rare blue whale skeleton. The Kendall museum was the creation of the Kendall family, omnivorous twentieth-century collectors whose holdings of scrimshaw; whaling prints; and Dutch, British, and Japanese whaling pictures are unparalleled.
Six new exhibits have opened in New Bedford that hint at what may come when the two collections are fully integrated. "Dutch Whaling in the Golden Age" and "British Paintings and Scrimshaw" show off the Kendall's special strengths, while "Treasures from the Kendall" ranges from sublime nineteenth-century oil paintings to a Chumash Indian soapstone killer whale carving that may be 500 years old. But New England has not been forgotten. The older galleries have local history, figureheads, and harpoons galore. A special highlight is a 1,300-foot-long painted panorama that replicates the view from the rail of a globe-circling whaling ship. Displayed on a stage and slowly unscrolled, it gave New Bedford audiences in the 1840s a trip around the world.
Click here for ARCHAEOLOGY's list of current exhibitions.


© 2002 by the Archaeological Institute of America
archive.archaeology.org/0211/reviews/whaling.html
Share