Recovering Genius
Volume 55 Number 6, November/December 2002
by Brett Correa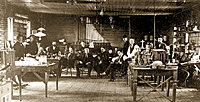 Edison, seated left of center, and his associates inside the Menlo Park laboratory, 1880. (Smithsonian Institution, Neg.#80-16718) [LARGER IMAGE]
Only a small museum and a memorial tower mark what was once the site of Thomas Alva Edison's famed Menlo Park, New Jersey, laboratory complex. Here, Edison and his staff helped usher in a new age of technological innovation with the incandescent electric light bulb, the first-ever sound recording, and other revolutionary inventions that gave Menlo Park its status as the world's first industrial research center. Established in 1876, the complex consisted of the lab, an office-library, a machine shop, and other buildings that either collapsed, burned down, or were moved after the site was abandoned six years later. Excavations this past summer by a Monmouth University team of archaeologists headed by Richard Veit have uncovered some of the historic landmark's structural remains.
According to Veit, the goal of the excavations is to "better understand how the lab complex was organized, and to provide information about the structures that Edison had built there," many of which exist today only in photographs. A sinkhole at the site turned out to be the entrance to an empty underground vault, measuring 12 feet long and 6 feet wide. Iron hinges are all that remained of its door. "After Edison abandoned the site, the vault had largely been forgotten, but Edison scholars were aware of its existence," says Veit. It was determined from historic records that this was the same vault built below his office-library (which burned down in 1919 after being used as a private residence) to store valuable documents for the more than 300 inventions patented at the lab.
Long before archaeologists ever investigated Menlo Park, American industrialist Henry Ford had surveyed the abandoned area between 1928 and 1929 for useable material to bring back with him to his museum in Dearborn, Michigan, where he was building a replica of the lab complex. Veit believes he has found some evidence of this activity in a privy foundation unearthed near the location of Edison's office-library that "seems to have been hastily filled with all sorts of objects including medicine bottles, tin can fragments, shoes, a water pump handle, and barn door hinges dating to the early 1900s, which may have been deposited there during Ford's 'excavations' at the site."
Using historic maps and photos, the team also uncovered a partial foundation of one of the houses rented by Edison's associates who lived and worked at Menlo Park, alongside a well and a midden containing nineteenth-century bottles, ceramics, "and what may be the brick supports for a post that would have held an array of incandescent electric light bulbs."


© 2002 by the Archaeological Institute of America
archive.archaeology.org/0211/newsbriefs/genius.html
Share