Books: Tales from the Deep
Volume 55 Number 5, September/October 2002
by Kristin M. Romey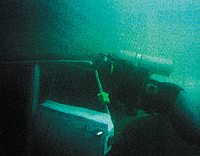 A National Park Service diver helps underwater archaeologist Dan Lenihan out of a sunken Chevy. (Courtesy NPS) [LARGER IMAGE]
Summer's coming to a close, and archaeology buffs looking for that final beach read won't be disappointed by Daniel Lenihan's Submerged: Adventures of America's Most Elite Underwater Archeology Team (New York: Newmarket Press, 2002; $25.95). Lenihan, founder of the National Park Service's Submerged Cultural Resource Unit (SCRU), takes his readers on an adventure-packed ride that rivals any Clive Cussler tome, stopping along the way at such diverse wreck sites as the Aleutian Islands and Bikini Atoll.
Submerged opens with a harrowing tale of missing SCRU divers in the icy waters of Lake Superior, serving as a reminder that the more dangerous the site, the more shipwrecks one is likely to find there. "Archeologists [sic] seldom get to pick where they will dive," Lenihan writes, "but by definition the area won't be benign."
While the unit's primary mission is to find and locate submerged historic sites on properties held by the park service, its divers are also rangers often called upon to recover drowning victims. The head-spinning variety of responsibility is clearly conveyed in Submerged: at one point Lenihan muses on the archaeology of site inundation--sediment integrity and chemistry, and the viability of thermoluminescence and fluorine analyses--three paragraphs later, we find him strapped into a '72 Chevy, rolling into a lake in an experiment to determine what exactly happens when people sink in cars. (SCRU was recently renamed the Submerged Resources Center, "leaving us to mourn the loss of one of the finest acronyms in government," laments the author.)
Like so many books in the underwater-adventure genre, Submerged is packed full of swagger and purple prose, but Lenihan's commitment to heritage preservation is unwavering; he's the archaeologist standing in the backyard with his shotgun, waiting for the salvors to raid his chicken coop. The formula makes for a great beach novel in the waning days of summer.
Click here for ARCHAEOLOGY's bookstore.


© 2002 by the Archaeological Institute of America
archive.archaeology.org/0209/reviews/deep.html
Share