Unrest in the Mundo Maya
Volume 55 Number 5, September/October 2002
by Colleen P. Popson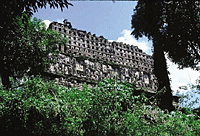 Mexico may be planning to dam the Usumacinta River, a project that could flood scores of Maya sites in Mexico and Guatemala, including Yaxchilán. (World Monuments Fund) [LARGER IMAGE]
Politics threatened Maya hotspots this summer. In June, tourists to Tikal emerged from a tour of the jungle city to find that thousands of peaceful protesters, made up of campesinos, formerly paramilitaries of the Guatemalan civil defense patrol, had blocked roads in Petén, including those to Tikal and the Flores airport.
The protests, intended to disrupt the lucrative tourist trade, were staged over money the campesinos claim they are owed by the government for their participation in the civil war. Tourists were held in the area for about 36 hours, until the U.S. and other foreign embassies negotiated their release. Although the State Department has issued an alert about the possibility of disturbances around Tikal, reports suggest that the problem is under control, and the park has been reopened.
Meanwhile, archaeologists and environmentalists working along Mexico's Usumacinta River were alarmed by a report in Tobasco Hoy that the Mexican government was again considering a plan to build hydroelectric dams along the river, a project that would flood a region packed with Maya sites, such as Yaxchilán, Piedras Negras, and Altar de Sacrificios, as well as scores of unrecorded sites.
It remains unclear if the proposed dams are a part of a recent agreement to connect the electrical grids of Guatemala and Mexico, part of a greater vision known as the Plan Puebla-Panama. The newspaper article also reports the Inter-American Development Bank (IDB)--a group which funds archaeological work and tourism development at Maya sites nearby--is providing funds for the hydroelectric project; IDB insists its involvement in the plan is only for the grid integration, not for any dams.
"Archaeologists are being vigilant and trying to maintain awareness of how these plans progress," says Charles Golden, a Mayanist working at Piedras Negras. "It is not our role to try to dictate to any country how to manage its resources, but we can try to raise awareness of the importance of cultural patrimony and make a case that it should be protected."


© 2002 by the Archaeological Institute of America
archive.archaeology.org/0209/newsbriefs/cahokia.html
Share