American Scene: Cherokee Holy of Holies
Volume 55 Number 5, September/October 2002
by Andrew Curry
Archaeology as a peacemaker in a dispute over Native American Heritage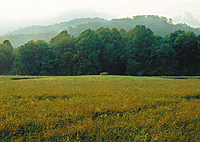 The unimposing Kituwha Mound, 170 feet in diameter and only five feet high, has significance for the Cherokee Nation that belies its size. (Andrew Curry) [LARGER IMAGE]
When Tom Belt was growing up in Oklahoma, his Cherokee grandmother told him stories about a cool, green valley in the Great Smoky Mountains of western North Carolina, where their people had been born. Most important, she told Belt about Kituwha, the earthen mound in the center of the valley where God had given the Cherokee their laws and their first fire, establishing them as a people.
Decades later, Belt came to North Carolina for the first time. Standing on railroad tracks overlooking the five-foot-high mound, Belt recalls that his grandmother "told me stories about this place, about how the river turns, and she'd never been here. When I got to Kituwha, it was exactly like she described it." But Belt could only look on from a distance. The storied birthplace of the Cherokee people didn't belong to him. "I didn't feel empowered to cross those tracks," he says.
For Belt and other Cherokee, who today number more than 350,000, mostly living in Oklahoma, homecoming would have to wait. It wasn't until 1996 that the land around Kituwha, a few hundred acres of pasture bordering the Tuckasegee River, was put up for sale by the Ferguson family, which had owned it for most of the twentieth century. The Eastern Band of the Cherokee Nation snapped it up; an event many on the nearby reservation never thought they'd live to see had come to pass.
In the years since, the tribe has disagreed over the future of the property. The majority of tribal members has called for development at the site, while mostly older traditionalists insist that Kituwah is sacred ground and should be off-limits. The struggle has highlighted cultural differences within the tribe, but it has also come to redefine the tribe's historically antagonistic relationship with archaeologists, who were called in as expert witnesses during the debate. They were asked to present facts about the property on which the tribe could base its decisions. In so doing, archaeologists gained the trust of the Cherokee as the tribe sought to find out what remained of Kituwha after their 200-year absence.
Andrew Curry is an associate editor at U.S. News and World Report.


© 2002 by the Archaeological Institute of America
archive.archaeology.org/0209/abstracts/scene.html
Share