Museums: Lives of the Proto-English
Volume 55 Number 4, July/August 2002
by Andrew Curry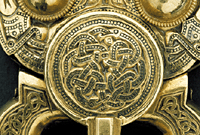 A gold buckle is one of the many riches found and on display at Sutton Hoo. (British Museum) [LARGER IMAGE]
In 1937, Edith May Pretty hired an archaeologist to look at some curious mounds at Sutton Hoo, her estate about 85 miles northeast of London. What he discovered has been called the richest archaeological find in England--the grave of an Anglo-Saxon king sent to his eternal rest with a ship full of grave goods. British Museum archaeologists concluded it may have been the grave of Raedwald, king of the East Angles and high king of the English peoples, buried around A.D. 625.
The mound was a pre-war media sensation, but with the outbreak of WWII, the site's finds went back underground--the London Underground--while tanks used the warrior king's gravesite as a practice field. More extensive excavations took place between 1983 and 1992, revealing additional burial grounds and evidence of a wide array of burial customs, from the massive ship interments to funeral pyres, coffins, and simple pit graves. Located on private land, Sutton Hoo remained closed to the public until 1998, when 246 acres were donated to Britain's National Trust. A new visitor center opened in March, where a fascinating exhibition illuminates the lives and times of the Anglo-Saxons, a people whose importance many overlook.
"Everybody loves the Vikings, although they've had very little cultural influence," says National Trust archaeologist Angus Wainwright. "But the Anglo-Saxons gave us place names, our language, and our laws." Sutton Hoo is an excellent place to get a feel for this early culture. The centerpiece of the exhibition is a reconstruction showing what the king's burial chamber might have looked like--a trove of weapons and practical goods from swords to a gaming board and a massive iron cauldron. Other displays explain the array of peoples moving through England at the time, using passages from the Anglo-Saxon epic Beowulf to give a sense of daily life. The center also showcases original artifacts on loan from the British Museum.
In the five weeks after it opened to the public, the site had about 40,000 visitors. Some 55,000 visitors had been expected for the entire year. Weekends can draw up to 2,000 people a day, causing overcrowding. Go early or on an off-day to get a good look at the discoveries that shed so much light on this influential culture.
Click here for ARCHAEOLOGY's list of current exhibitions.


© 2002 by the Archaeological Institute of America
archive.archaeology.org/0207/reviews/protoenglish.html
Share