In Living Color
Volume 55 Number 4, July/August 2002
by Mark Rose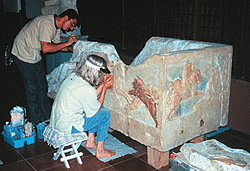 Conservators work on a fourth-century B.C. sarcophagus with rare painted reliefs. (© Troy Excavation Project) [LARGER IMAGE]
The world's best-preserved example of painted classical sculpture--a carved sarcophagus--has just been unveiled following a three-year-long restoration at the Çanakkale Archaeology Museum in northwestern Turkey. Robbers apparently broke into a tomb near the village of Çan in November 1998 using a bulldozer and severely damaging the sarcophagus. Even in its damaged state it is an unprecedented find, for painting remains intact on about two-thirds of the carved reliefs, which date to the early fourth century B.C. Says the University of Cincinnati's C. Brian Rose, who coordinated work on the sarcophagus, "Few classical sculptures preserve any traces of their original paint, and none to this extent."
The sarcophagus features hunting scenes, including one in which a horseman spears an enormous boar between the eyes, and a battle scene in which a mounted warrior spears a Greek opponent. The hunter and warrior have similar facial features and probably represent a local Anatolian prince who was buried in the sarcophagus. Details, such as the prince's goatee and shape of his nose, suggest that the artist was producing a realistic depiction of the man, placing the sarcophagus among the earliest examples of ancient portraiture.
[LARGER IMAGE]
[LARGER IMAGE]
Reliefs show a boar hunting with hounds, left, and an Anatolian prince in battle, right. (© Troy Excavation Project)
A major conservation problem was the lack of adhesion of the pigment, which had to be consolidated with acrylic resin. The sarcophagus offers the first opportunity to analyze the full range of colors used on classical sculptures. Tests showed pigments included ochers, vermillion, lead white, malachite, Egyptian blue, and others.
Bones found on the floor of the plundered tomb belonged to a man between the ages of 22 and 28 and showed multiple fractures, evidence of a fall, probably from his horse during a battle. Although physically incapacitated, the man lived for several years after the injury. The cause of his death remains unknown.
No reliably datable artifacts were found in the tomb or the sarcophagus, but the presentation of faces in three-quarter view and other details of the carving make a date of 400 to 375 B.C. likely. During this period there were constant battles between Greeks and Persians. The battle scene on the sarcophagus may refer to 395 B.C., when Agesilaos of Sparta ravaged the area.
Editor's note: the full report on the painted sarcophagus will appear in Studia Troica 11, 2002.


© 2002 by the Archaeological Institute of America
archive.archaeology.org/0207/newsbriefs/sarcophagus.html
Share