Web: NPS Back Online
Volume 55 Number 3, May/June 2002
by Eric A. Powell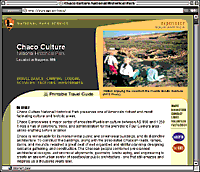 Chaco Culture National Historical Park website (National Park Service)
The National Park Service (NPS) maintains a vast collection of web pages at its www.nps.gov site. Given the amount of archaeology that goes on in the national parks, many of these pages are loaded with information of interest to North American archaeology buffs. This past winter, as I have dozens of times before, I clicked on the site looking for some facts on Chaco Canyon. Much to my surprise, instead of being greeted by the famous image of Pueblo Bonito, I saw a bizarre gray screen giving park hours and a handful of telephone numbers. A few more clicks established that all the NPS sites I use regularly had been replaced by the same ominously generic screen.
As I soon learned, last December 6, a court order forced the National Park Service out of cyberspace. The park system's exile from the web was prompted by a long-running class action lawsuit charging the Department of Interior (to which the NPS belongs) with mismanagement of the Individual Indian Trust, set up in 1887 to manage royalties from timber, grazing, and mineral exploration on Indian lands. Lawyers representing the plaintiffs claimed that the department was vulnerable to hacking, and after a computer security firm was able to set up false Indian Trust accounts with embarrassing ease, U.S. District Judge Royce Lamberth ordered the entire Department of Interior offline until it could demonstrate its network was secure. Even agencies within the DOI that had nothing to do with the accounts, like the NPS, soon found themselves idling on the shoulder of the information superhighway. Park rangers across the country had no email, and as I had found, the NPS internet portal was off limits to web surfers.
After two months with no access to park service web pages, I was reminded how many significant archaeological sites are in national parks or national monuments. Once the NPS returned to the internet in February, I toured its archaeology web pages (www.cr.nps.gov/archeology.htm) and found not only the familiar park pages, but periodic features on subjects like marine archaeology and Mississippian mounds that made for interesting reading. As long as the NPS can steer clear of lawsuits, expect these web pages to be a useful resource for some time to come.
Click here for ARCHAEOLOGY's list of multimedia reviews.


© 2002 by the Archaeological Institute of America
archive.archaeology.org/0205/reviews/nps.html
Share