Render Unto Ethiopia...
Volume 55 Number 3, May/June 2002
by Jarrett A. Lobell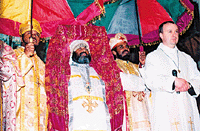 Church leaders celebrate a tabot's return from Scotland to Ethiopia in a ceremony that attracted thousands of worshipers. (Courtesy Gail Warden) [LARGER IMAGE]
Ethiopian officials were thrilled when the fortuitously named Rev. John McLuckie happened upon the 400- year-old wooden Tabot of St. Michael (an inscribed wooden tablet representing the Ark of the Covenant), which had lain in a dusty box in an Edinburgh church for more than 100 years. Taken by a British soldier in 1868 from the fortress of Emperor Tewodros II at Maqdala, Ethiopia, the tabot was recently returned to the country.
Other treasures from the sack of Maqdala remain in Great Britain despite efforts of the Ethiopian government and AFROMET (the Association for the Return of the Maqdala Ethiopian Treasures) to have them returned. Objects taken from the fortress and the nearby church of Madhane Alem include ten more tabots, approximately 500 religious manuscripts, precious icons, gold and silver crosses, royal vestments, and two gold crowns--all carted off by the British on no fewer than 15 elephants and 200 mules. Several British museums and libraries, including the British Museum and the Royal Library at Windsor Castle, house the sacked objects; there are also Ethiopian sacred objects scattered among institutions in France, Portugal, and the United States. While acknowledging that the artifacts have been well looked after, the Ethiopian religious and political communities now are pleading for their return, assuring that there are secure and appropriate places for them to be displayed and stored. The answer so far has been no.
The Ethiopians also seek the return of the Axum Obelisk (technically a stela used to honor the local ruler's authority), which now stands in the Piazza di Porta Capena in Rome. In 1937, Mussolini ordered the dismantling and removal of the 1,700-year-old obelisk to Rome to commemorate the fifteenth anniversary of his march on Rome. Seguare Abaye, a 101-year-old priest who witnessed the event calls the removal of the obelisk "the deepest regret of my life."
On at least three separate occasions since World War II, the Italians have agreed to return the obelisk. The latest was in 1997, when stamps were issued in Ethiopia to commemorate its return. But like the treasures from Maqdala, the obelisk remains on foreign soil. While it may seem strange that Italy would want to retain this monument to Fascism, politicians cite the threat to the monument if it is returned to Ethiopia. But can anything threaten a stone monument more than Rome's atrocious pollution?


© 2002 by the Archaeological Institute of America
archive.archaeology.org/0205/newsbriefs/ethiopia.html
Share