Doyenne of Mayanists
Volume 55 Number 3, May/June 2002
by Tom Gidwitz
Merle Greene Robertson has spent a lifetime chronicling Mesoamerican art.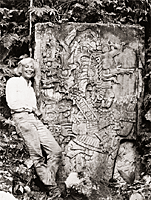 In 1971, Robertson posed next to Stela 16 at Dos Pilas, Guatemala. It is one of more than 2,000 Mesoamerican sculptures of which she has produced rubbings. Testaments to the importance of these rubbings are too common--last October looters sawed off the most significant sections of this monument to sell on the black market. (Courtesy Merle Greene Robertson) [LARGER IMAGE]
In the summer of 1962, a small plane touched down on the jungle airstrip at Tikal, Guatemala. On board were dozens of cases of expensive Scotch and two women, who had wedged themselves amid the plane's cargo. Summer art students from the University of Guanajuato's San Miguel de Allende Art Institute, they had come to spend the weekend and see Tikal's ruins. Stepping off the plane, one spotted a snake, hopped right back on, and went home without seeing a single temple. The other woman was Merle Greene Robertson. "A little old snake wasn't going to send me away," she says. Robertson had a special interest in Precolumbian art. When she reached the ruins, she found herself in wonderland. Robertson's weekend visit lasted the entire summer, and her love of Maya art became an obsession. "Once I became a Mayanist," she says with an emphatic motion of her hand, "that was it--all the time."
In the four decades since, Robertson has ventured deep into the jungle, spending weeks in dank tombs and recording thousands of Maya masterpieces before their destruction by looters and time. She has authored five books and scores of scholarly articles, edited a dozen studies of Maya art and history, and helped bring about one of the twentieth century's great accomplishments: the decipherment of the Maya script.
In 1962 at Tikal, Robertson watched archaeologists uncover Altar 5, a pristine, ornate, five-foot-diameter stone monument with carving worthy of more than a mere pencil sketch. She had an idea--she stretched a bed sheet across the altar, secured it with stones and rope, and, gently pressing on the cloth with oil paint on her thumb, created a startling black-on-white rubbing of two figures and a death's head, encircled by 31 glyphs.
At a stroke, Robertson had brought a new tool to Maya studies. Life-sized rubbings reveal details that escape even the most experienced observers. "If you're looking at the clothing that the elite might have worn, you can see every little line, every little pattern in the fabric," she says. Robertson returned the next summer with more sophisticated materials: six-foot sheets of handmade Japanese rice paper, and dense, black sumi ink used in Japanese brush painting.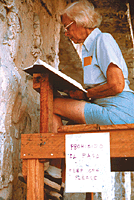 Robertson takes notes on pieces of sculpture to be replicated for installation at the Florida Museum of Natural History. (Courtesy Merle Greene Robertson) [LARGER IMAGE]
Robertson's ambition was to record the art of the Maya world before it disappeared. Traveling by mule, foot, and dugout canoe, she searched out ruins known only to jungle residents or to Mayanists familiar with the forest. Side by side with a small team of workers who cut trails and set up camp, she struggled with heat, snakes, dirty water, and voracious insects. With her enormous sheets of paper, stored in Bakelite cases, she could pack little more than a change of clothes, Halzone pills to treat muddy swamp water, and a few cans of freeze-dried food. She enjoyed eating from the jungle's menu: stewed monkey, roast boar, armadillo, fish, and frog.
In time, as monuments deteriorate from sun exposure, acid rain, and insects, and are hacked to pieces to sell to wealthy collectors, Robertson's rubbings will be the best evidence that many of these masterpieces ever existed. Two thousand of them are archived at Tulane University's Latin American Library in New Orleans, where, protected in polyethylene and climate-controlled storage, they are available for study. These rubbings are "a corpus of data which is crucial and still will be 100 years from now," says Arlen Chase, Robertson's former student and head of the excavation of the Maya site of Caracol in Belize. "They would be almost impossible for anybody else to duplicate."
It's not hard to find Merle Greene Robertson. Just go to the street named in her honor, Calle Merle Greene, in the modern town of Palenque, Mexico. Here stands her modest house she named Na Chan-Bahlum--Chol Maya for House of Serpent Jaguar--in honor of the brilliant king responsible for much of Palenque's most astonishing temples and art. Robertson first visited Palenque in 1960, when a single jeep was the town's taxi, and the road to the ruins was a muddy rut. She returned so often that in 1970, the Robertsons built Na Chan-Bahlum at the edge of the modern village, five miles from the ruins.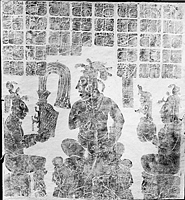 Palenque is noted for its fine portraiture, as seen in Robertson's rubbing of the Tablet of the Slaves. (Courtesy Merle Greene Robertson) [LARGER IMAGE]
Na Chan-Bahlum quickly became what archaeologist Michael Coe calls "a Mecca for Palencophiles," its doors open to both professionals and amateurs under the Maya spell. One enthralled amateur was Linda Schele, who returned again and again, eventually becoming Robertson's assistant, best friend, and one of the leading Mayanists of her time ("Letter from Austin," March/April 1998). La Primera Mesa Redonda de Palenque--the First Palenque Round Table--convened at Na Chan-Bahlum in 1973. It was an unprecedented gathering of art historians, epigraphers, and archaeologists, as much a reunion of friends as a scholarly conference. One afternoon epigraphers Floyd Lounsbury, Peter Mathews, and Schele sat down at Robertson's kitchen table, hoping to expand on the list of known Palenque rulers. That night, the trio presented their timeline to the round table, and Lady Sak K'uk' who ruled for nearly 30 years, her son Pakal, and his son Chan Bahlum were reintroduced to the world. The anonymous carved faces and the bodies in the tombs suddenly "had become real people, real kings who lived and ruled the city where we had come to study," Robertson wrote in her introduction to the proceedings of the Sixth Palenque Round Table Conference, held in 1986. A cascade of discoveries followed, unveiling five centuries of Palenque's history and a new picture of the Maya, a civilization immersed in war, human sacrifice, and mystical rituals.
Tom Gidwitz is a freelance writer specializing in the earth sciences and archaeology.


© 2002 by the Archaeological Institute of America
archive.archaeology.org/0205/abstracts/merlegreene.html
Share