Motel of the Mysteries
Volume 55 Number 1, January/February 2002
by Jerald T. Milanich
Urban archaeology in mainland America's oldest city
| | |
| --- | --- |
| | Archaeologists digging in Room 14 of St. Augustine's Monson motel found eighteenth-century remains beneath a driveway. (Jeff Gage/Florida Museum of Natural History) [LARGER IMAGE] |
Most archaeologists load up their field crews and equipment and head for the wide-open spaces. For his date with the past, Carl D. Halbirt, archaeologist for the city of St. Augustine, Florida, checks into Room 19 at the drab, 42-room, single-story Monson motor lodge in the heart of that historic town's tourist district.
Given the seeming abundance of historic sites in St. Augustine, mainland America's oldest continuously occupied non-Indian town, why would an archaeologist choose to excavate under a motel? The answer is simple: to salvage information about the venerable town's past before it is lost forever. The Monson motor lodge and the historic ground on which it was first erected in the 1950s are both slated for demolition this year, to make room for a new Hilton hotel with an underground parking garage. After the Monson is razed and before the Hilton is built, there will be no time for archaeologists to investigate the remains of 25 or so historic buildings and hundreds of archaeological features beneath the structure. To reach archaeological deposits that are certain to be destroyed when the garage is built, Halbirt has been forced to dig through the Monson's floors room by room.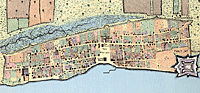 Thomas Jeffreys' 1763 map is used by archaeologists to help pinpoint colonial-period houses and streets under the modern town. (P.K. Yonge Library of Florida History) [LARGER IMAGE]
By any measure, the Monson motel excavations are a peculiar way to do archaeology. But perilous times demand singular solutions, and St. Augustine is a city in peril. As in 1702, when English-backed Carolinian militia laid siege to Spanish San Agustín, modern St. Augustine once again faces an invasion. This time it is thousands of American, Asian, European, and Latin American tourists, all intent on sampling the venerable city's historical ambiance.
The hordes of tourists require restaurants, hotel rooms and places to park their cars, and they want to purchase T-shirts, sunglasses, suntan lotion, and souvenirs, all amenities local businesses are willing to provide. But the inns, eateries, and shops come at a cost: the destruction of the very past the tourists have come to enjoy. In St. Augustine, past and present are in delicate equilibrium.
Jerald T. Milanich is curator in archaeology at the Florida Museum of Natural History and author of a number of books on Florida archaeology.


© 2002 by the Archaeological Institute of America
archive.archaeology.org/0201/abstracts/motel.html
Share