Multimedia: Cyberceramics
Volume 54 Number 2, March/April 2001
by Angela M.H. Schuster
A unique online resource for Mayanists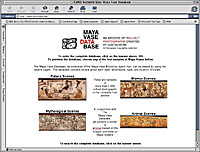 Maya Vase Data Base
When New York fine art photographer Justin Kerr devised a unique method of capturing the images on ancient polychrome Maya vases some three decades ago, little did he know that he would revolutionize the study of Maya ceramics. His concept was simple--place a vase on a turntable that rotates at precisely the same speed as film rolls through a camera. The result: a flat projection of an image that had been painted on a cylindrical object. For the first time, Mayanists could easily view the complete iconography of vases, enabling them to compare the representations of rituals, deities, and mythological scenes on examples from different periods and geographical areas.
Over the years, Kerr has photographed more than 10,000 Maya artifacts from both public and private collections, developing an archive that spans the entire period of Classic Maya civilization (ca. A.D. 250-1000). His images have been included in just about every major work on the Maya, the most recent being the Art of the Maya Scribe, which Kerr co-authored with Yale University's Michael Coe. He has also published his own series, the Maya Vase Books, volume six of which was recently released.
To keep track of the images, Kerr created a digital library for use in his own research and that of friends and colleagues. High-resolution images could also be sent to publications such as ARCHAEOLOGY in lieu of traditional prints or transparencies.
Realizing the research potential of his image collection, Kerr recently launched the Maya Vase Data Base, a searchable online archive with photographs of more than 1,500 ceramics. Visitors to the site can search for ceramics by artist or workshop, iconography, text passage, date and method of manufacture, and current whereabouts. Site or regional affiliation is noted where known. Less than ten percent of the artifacts, primarily those from Tikal in Guatemala and Copán in Honduras, were properly excavated; the rest were acquired on the art market prior to 1973.
The Maya Vase Data Base resides on the website of the Foundation for the Advancement of Mesoamerican Studies, Inc., of which Kerr is a director, at www.famsi.org. FAMSI provides $250,000 annually in research grants.
Other Mesoamerican artifacts will be added to Kerr's site in the near future. In addition to Kerr's photographs, visitors can access an extensive bibliography and drawings of Maya monuments and inscriptions by the late University of Texas epigrapher Linda Schele. To date, nearly 400 of Schele's drawings, most of which are from the Late Classic site of Palenque in Chiapas, Mexico, are available on the site; 600 more from various sites will be posted in coming months.
Angela M.H. Schuster is senior editor of ARCHAEOLOGY.


© 2001 by the Archaeological Institute of America
archive.archaeology.org/0103/etc/multimedia.html
Share