American Scene: Back At the Ranch
Volume 53 Number 1, January/February 2000
by Katherine Drouin Keith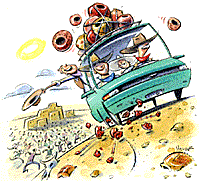 (Illustration by Jimmy Holder)
When retired car salesman Marvin Hatch decided to buy a 64,000-acre cattle ranch in northeastern Arizona in 1994, he and his business partner Terrence "Shorty" Reidhead, who had made millions in construction, knew the land would yield more than just hamburger. The spread, just east of the town of Holbrook (population 4,700), was studded with artifacts, petroglyphs, Triassic fossils, and petrified wood, not to mention rare Paleoindian sites dating from 9500 to 6000 B.C., Basketmaker villages from the first 700 years A.D., and Pueblo communities from A.D. 700 to around 1450. That land, coveted by the neighboring Petrified Forest National Park (which lacked the funding to buy it) and deemed priceless by scientists, could become a cash cow for Hatch and Reidhead, who paid $3.3 million for the property. Their seven billboards on nearby Interstate 40 invite motorists to schedule a tour of their "Triassic Preserve," which opened for business last summer.
Hatch and Reidhead hope tourists will pay $60, $30, or $20 for full-day, half-day, or two-hour tours exploring the tumbled stones of ancient pueblos, petroglyphs etched in boulders, and fossils scattered in dry washes. None of this sits well with archaeologists, who fear that the commercial venture, well-intentioned though it may be, could threaten cultural resources.
Katherine Drouin Keith is a journalist living in Tucson, Arizona.


© 2000 by the Archaeological Institute of America
archive.archaeology.org/0001/abstracts/scene.html
Share